Originally released as: The Winner
Pit Stop: Written, Directed and Edited by Jack Hill Produced by Lee Strosnider
Cinematography by Austin McKinney
Cast: Richard Davalos as Rick Bowman; Sid Haig as Hawk Sidney; Beverly Washburn as Jolene; Brian Donlevy as Grant Willard; Ellen McRae (later Ellen Burstyn) as Ellen McCleod; George Washburn as Ed McCleod; Steve Pendleton as Luther; Robert Krist as Al; Ted Duncan as Sonny Simpson; Titus Moody as Moody; Don White as Ace; and Ray Thiel as Roy. Playing themselves are: George Barris, Harry Schooler, Sandy Reed, Ed Hand, Hal Lane and Dr. Edwin Kissel
Original Music by The Daily Flash and John Fridge
Format: Widescreen (1.66:1) 16 X 9 Enhanced
---
Highway To Hell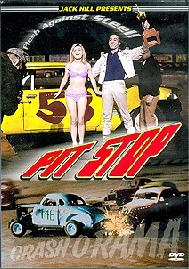 Pit Stop is an amazingly well-executed movie by the inventive Jack Hill, revealing the independent writer/director in one of his best moments, running hard on virtually all cylinders in this fascinating study of the inhumanity of winner-take-all competition, set against a backdrop of automotive icons from the trailer-trash side of the street: stock cars, wrecking yards, racetracks, custom cars, drag racing, dune buggies, oval track racing... and craziest of all, figure-8 track racing.
Originally released as The Winner -- an incredibly ironic title, given the film's anti-heroic stance -- the decision to rename it Pit Stop also appears misleading, as there isn't one pit stop in any of the races in the entire movie. But then, pit stop also means a short rest, a chance to get recharged, get your bearings, and then get back into the race. For the lead character, Rick Bowman (played by Dick Davalos), the time of the movie is a pit stop for him, as he takes a little time off in the move from his prior career of drag racer to his future job of oval track stock car racer. Trouble is, this is a Pit Stop on the Highway to Hell.
Briefly, the plot relates the story of loner Rick Bowman, a mean-looking greaser who gets tossed in the local slammer after beating the local hot rod in a late-night drag race. Rick is subsequently bailed out by the owner of the other car, sleazy racing promoter Grant Willard (played by Brian Donlevy), who is always on the lookout for fresh talent, and who offers to sponsor Rick as a driver in a new type of figure-8 racing. Rick, who astutely nixes Willard's offer after watching a race -- and its deadly intersection -- can't swallow the egomaniac antics of the race's usual winner, Hawk Sidney (played by Sid Haig), and unastutely decides to join Willard's stable of drivers in order to teach the Hawk the lesson he so richly deserves. But there's more to this figure-8 mayhem than meets the eye.
After totalling two cars in as many races, Rick is taken aside by a geezer racer, and is tutored in the finer points of the game's strategies. Rick puts the practice to good use, winning the next race by forcing Hawk to wipe out his hot new customized racer. Not content to just beat him on the track, Rick steals Hawk's girlfriend, Jolene (Spider Baby's Beverly Washburn), at the victory party. Later, the pissed pair are wildly attacked by a sledgehammer-wielding Hawk, who beats the crap out of Rick, then hammers his car into scrap metal.


But what's a concussion and a broken arm when you're 20 years old? In the next race, Rick beats Hawk on the track yet again, and this time Rick's exploits draw the attention of professional driver, Ed McCleod (played by Beverly's brother, George Washburn) and his wife, Ellen (played by Ellen McRae, before she changed her name to Burstyn), who agree to allow Rick to replace Hawk as their backup driver in a big forthcoming race. As evil promoter Willard points out, winning this race will mean a step up to the big time for Rick, who immediately celebrates his step up by seducing Ellen under the moonlight, following a day of rodding around in dune buggies.
The stiff competition takes its toll on all, however, as Ed can't get it up for Ellen, Rick can't get it up for Jolene -- he hilariously lies in bed, reading a copy of Hot Rod (too ironic!) -- and Hawk has transformed from a confident loudmouth into a whimpering loser.
Finally, the race begins. Hawk's car breaks down early in the race, so he's out of it. By the end of the race, with Ed leading and Rick second, Rick bumps Ed's car into a spin and passes him to win the trophy. Ed's car is then whacked by another racer, and he sustains what seems to be a minor neck injury. A few hours later he's dead. Rick arrives at the hospital and is greeted by a disgruntled Hawk, an accusing Ellen, a hateful Jolene and a pragmatic Willard, who invites Rick to be his main driver in the next big race. Rick pauses for a moment, then shrugs, opens the car door and seals his contract with Willard.
The Road Show
Pit Stop came to life while Jack Hill was twiddling his thumbs during litigation involving his first movie, the wacky Spider Baby (1964). After knocking off Mondo Keyhole (1966), a cheapo film about a psycho pornographer, Roger Corman hired Hill to direct a film about the aggressive world of stock car racing. Hill knew nada about the subject, but inked the deal after seeing figure 8 racing in action, deciding this was a crazy type of Americana that should at least be saved on film for posterity. There is, in fact, a serious documentary feel to the action parts of Pit Stop, as Hill accurately and authentically records a number of now-vanished fads, showing us the original studio/workshop of Kustom Kar King George Barris, dune buggy hill climbing competitions, oval and figure 8 stock car racing, old race tracks, and even car wreckers at work.
This reverent approach to the subject gives Pit Stop a more universal appeal -- you don't have to be a car nut to appreciate the action -- but despite Hill's desire to record for posterity, Pit Stop is a masterpiece of raw noise and rawer emotions, high-octaned by his now-revealed command of the medium, punchy, aggressive sound track, and great performances from Dick Davalos and Hill mainstay, Sid Haig.
Devalos (East of Eden, Cool Hand Luke) cleverly underplays his role as Rick, the sloshing gastank of highly-aggressive competition. In most of the close-ups he adopts a dark, faintly satanic look, and his routine is to not only beat you, but take your woman just for good measure. He's the ultimate loner, the existential outsider, the opportunist and immoral winner. Need you ask about his soul? Devalos plays the role to perfection, keeping his feelings submerged and his obsessions forefront.

Pit Stop could be Sid Haig's best movie. As loudmouth braggart Hawk Sidney, he leaves the rest of Pit Stop's formidable cast in his dust, delivering a high water mark, completely believable performance. Sneering, swaggering, wild eyes flashing, Haig's over-the-top rendition is equally as captivating as the efforts of actors such as Jack Nicholson or Christopher Walken in similar roles. And, when necessary, he can tone it down to a low hum...

Brian Donlevy, in his last good role, is competent and professional as the evil race promoter (all his scenes were shot in three days... according to Hill, you had to use Brian before dinner, as he tended to get into the sauce). Beverley Washburn, three years after Spider Baby, plays an interesting blend of tomboy and early hippie, and is very natural and alive in her role, and her brother, George Washburn, who was actually a stunt driver, fares very well in his first acting role.

Ellen McRae is a very interesting cast addition. Send to Jack by Hollywood acting coach Jeff Corey, you can see the power in her acting and the intelligence she brings to her role as the racecar driver's unfulfilled wife. It was in her next movie, The Last Picture Show, that she would change her billing to her married name, Burstyn. She attempts to be a bit of a babe in this movie, but not very seriously.
Turn Up The Music
One of the most remarkable aspects of this movie is the powerful sound track. All the car sounds were recorded separately and added in post-production, and the movie is a veritable wall of roaring engines during the race scenes. On top of the raw hormonal call of a souped-up V8, Hill hired Seattle psychedelic band The Daily Flash (an acid reference) to do the original music. And it's bloody wicked. You're treated to tortured, fuzzed-out acid blues that makes other racing movies sound like Neil Sedaka on prozac. You can check out The Daily Flash's short career here. In fact, the sound is so complex in Pit Stop that final production on the film was held up for weeks after a sound effects man failed to finish the job, meaning Hill had to do the sound editing as well ("Never pay in advance" is his commentary warning).
Visually, Pit Stop will amaze you with its beautiful anamorphic transfer, crisp and clean. Accompanying the feature is an exhaustive audio commentary by Jack Hill and film historian Johnny Legend which any filmmaker should use as a primer on low-budget filmmaking -- best tip is Hill explaining how he cheaply worked the process shot for the rear window of his closeup car driver racing scenes, they are fantastically realistic -- as well as a 10-minute featurette called Crash-O-Rama: The Making of Pit Stop, in which Legend interviews Hill and Haig; the film's theatrical trailer; a super-cool colorized version of the same trailer; a 35-image still gallery, comprised of stills and seldom-seen behind-the-scenes photos; and the requisite talent bios and filmographies.
Altho' Pit Stop didn't make any money -- it was caught up in the drive-in movie's flight to all-colour presentations -- it shows like Hill's PhD thesis, and lays the groundwork for his highly successful movies of the 1970s. Bottom line, Pit Stop reveals an aesthetic quality, an artistic sensibility that overcomes the jaw-dropping stunts and screaming car crashes, the subject matter and the budget. Get out the checkered flag. This one's a real winner.




© Rick "Ojo" McGrath 11/2000