Sheryl Crow: Rockin The Globe Live
A&M Records/ Image Entertainment
Colour/83 minutes

Executive Producer: Stephen Scooter Weintraub
Director: Lawrence Jordan
Director of Photography: Rick Siegel
Music recorded by Dave Hewitt
Mixer: Thom Cadley
Production & Lighting Design: Paul Guthrie
---
Not Much To Crow About...
I've got good news and bad news for Sheryl Crow fans. The good news is Sheryl's in fine voice on this live concert dvd. The bad news is the guys who recorded and mixed the sound on this puppy should be taken out and shot... along with production and lighting designer Paul Guthrie, who musta gone far out of his way to concoct the blandly unimaginative stage set that Sheryl and her band use for this 1999 concert.
And it's too bad, because Crow is a genuine talent with great pipes, the ability to write catchy, sophisticated songs, and proven musical abilities. Unfortunately, not much of the above leaks out of this Globe Theatre concert.
Lemme talk about the concert first. Like all live albums, this is essentially a greatest hits effort. All the top 40 songs are there, including All I Wanna Do, My Favourite Mistake, Anything But Down, If It Makes You Happy, A Change Would Do You Good, Everyday Is A Winding Road, and Strong Enough. There's the obligatory new stuff, salted in to help the latest album sales, but basically this concert covers her complete musical career.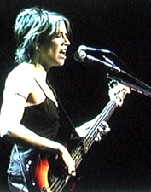 As for her abilities, Sheryl's always come across to me like a female Tom Petty, writing and performing strong, clever songs that go beyond the usual "I love you" ditties and into some clever personal analysis, even though most of the men she writes about seem to be dimwits hardly worth her attention. Still, it's interesting how she is able to twist cliches into memorable melodies, and there's no doubt All I Wanna Do is a classic, with its jazzy keyboard lines and hip lyrics bursting triumphantly like the sun coming up over Santa Monica Boulevard. Likewise, I've always appreciated (You Don't Bring me) Anything But Down as a Dylanesque put-down song, If It Makes You Happy as a slam against addiction, and A Change Would Do You Good, which is not a bad way to tell an old lover to get lost. Reminds me slightly of Donald Fagan's great Good-Bye Eyes as a parallel construction.
But no, this is more than a cd review... this is a dvd review and when you add the visuals, you better have your camera chops together, or you're gonna distract bigtime from the mood the concert makes.
In this case, the production values suck.
As I stated earlier, the stage design is laughable. In fact, there appears to be no design, except for a slightly raised area of the back stage where the cellist and violinist hang out. The "walls" of the set are just that: flat planes, upon which various images are backshot. The flavour of the images is 60s psychedelia, and you're asking yourself: what the hell is this? When not backlit, they're forelit with colours... mostly royal blue or yellow.
The lights are pedestrian -- read cheap -- comprised of the usual front spots and a square overhead rig with blue, yellow and white spots, some fixed, some swiveling. Every now and then there's some high, bright yellow spots that frame Sheryl's head and shoulders, but there's no pyrotechnics, little in the way of mood-setting colour changes -- except for blue -- and very little in the way of song-to-song contrast. What were they thinking?
Photo Director Rick Siegel uses only six cameras in the overall production, and this lack of firepower results in a disappointing lack of variety in the shots. He set a long camera up at the back of the hall, there's a tracking dolly behind the drummer, there's a boom camera stage right and a close front camera fixed on Sheryl. Plus two rovers. Not enough. Rather than getting us up close and personal with the band, we're subjected to a series of shots you might expect on the Ed Sullivan Show, and the final mix gives us about 80% Sheryl, 20% everything else. OK if you're kissing the TV screen every time her perky little face shows, but ultimately the repetition becomes a tad grating over 80-odd minutes.
But Siegel and Guthrie got nothin on Dave Hewitt, who apparently recorded all the music, and Thom Cadley, who claims to have mixed it. Save for a few numbers –- the ones Sheryl does unaccompanied -- the sound is so fuzzy it might have been recorded in a teddy bear factory. And to compound this error, the mix is wildly off, with the fuzzy drums so loud they tend to overpower all -- Sheryl's voice, lead guitar, cello, violin -- everything.


Did I say Sheryl reminds me of Tom Petty? She does, but her band can't hold a power chord to The Heartbreakers. The only musicians seem to be keyboardist Mike Rowe, violinist Lorenza Ponce and cellist Matt Brubeck. Drummer Jim Bogios is probably better than the crappy recording makes him sound, bassist Tim Smith is a journeyman, and lead guitarist Peter Stroud seems to be lost in the crowd. Sheryl, I note with interest, plays a pretty decent bass, but I wonder why someone who is there essentially to sing needs to strum away on every friggin song -- and then compound the mystery by changing guitars every number.
And yes, it must be said: for a foxy little number with enough balls to sing a song like Strong Enough (To Be My Man), Sheryl chose to present herself onstage in a very strange little outfit. With her muscular arms and shoulders, pigeon breast and Pam Anderson arm tattoo (not apparent on the dvd cover pix), it seems odd that she would choose a little black top -- with spaghetti straps -- that fans open under her tits for the obligatory navel shot. Under all this are tight black leather pants and big solid workboots. OK, I can see that this could look good as an ensemble, but for most of the concert her tight young bod is obscured by the huge, bulky guitars she straps herself into, giving one the image of a muscular, semi-nude midget popping up from behind a tipped-over, round wooden table.
All in all, a disappointing dvd of what might have been a rockin concert. I haven't heard the cd, so I can't report on its sound quality. Bottom line, unless you're a Crow Joe, save your dough. This dvd is for the birds.


© Rick "Ojo" McGrath 10/2000