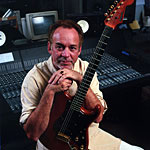 Vozero: Phil Manzanera

Expression Records, 1999
Written and Produced by Phil Manzanera
The Band: Phil Manzanera, Vocals, Guitars; Robert Wyatt, Drums; plus various musicians.
---
Phil Sings! (well, sort of...)
Phil Manzanera has always held an interesting, if somewhat obscure spot on the periphery of British guitar legends. Born Philip Targett-Adams, he traveled extensively as a child, his father's job taking him to southern climes such as Havana and Peru, where young Phil took up the guitar at age eight and learned to play the local Latino stuff before returning to England and public school. Almost immediately upon graduation he shot to instant fame with the 70s glam band Roxy Music, playing third banana to Brian Eno and Brian Ferry (in that order) in a group noted more for its dress code than musical abilities. Well schooled in latin music, with its complex rhythms, and a student of R&B, 60s rock and Eno-driven synthesizer riffs, Phil ended up, like Jeff Beck before him, an eclectic guitar virtuoso, and over the years he has issued a number of acclaimed, yet fringy albums.
I never got into the Roxy/glam stuff (imagine how happy I was to hear punk), so the first Manzanera cd I ever bought was Guitarissimo (1986), a compilation of cuts from five of his prior albums, all 70 minutes of it stuffed on one disc. It's a great collection of tracks from everything Phil did that was non-Roxy from 1975 to 1982. In fact, my Night Moves mini-video is cut to Manzanera's hauntingly beautiful Lagrima, an acoustic gem from 1975's Diamond Head.
A few years have passed since 1982, and Phil has kept busy with numerous projects, performance and otherwise, the otherwise being the formation of Expression Records, his own label. Since 1997 he's used it to reissue his surprisingly extensive back catalogue, all of which is described in loving detail on his professionally-managed website. So there's been a slew of Manzy's Magic Musical Moments suddenly available, and to top it off, another label, E'G Records, has concurrently reissued the legendary 1977 801 studio sessions, as well as the even more legendary 1976 live version, in which 801 does an Art Rock on such classics as The Beatles' Tomorrow Never Knows, and Ray Davies' You Really Got Me.
Even with all this mining of the past, Phil decides in 1999 to release an album of new work called Vozero, a shining example of what post-modern rock can be when it's done by an axeman with the experience and taste of Flyin Fingers Phil. Wait a sec. Post-modern? You got it, pal. Think blending of sources, rather than making it up from nowhere. It may be that only disco and punk are missing from this sprawling reference library of rock from the 60s to the nineties. Psychedelic? No problem. Prog rock? Little pop? Oh sure. Same for some country. New age. World music. Gospel. Latin. The list is inclusive, and cleverly packaged, and except for some crazy vocals, hangs together well.
That's right... vocals. For the first time in 25 years, Phil faces the mike and warbles along with his guitar. Malheuresment, with only partial success.
I Warn You, I Can't Sing. But I Believe.
In a possibly inadvertently funny interview with the web's intermusic.com's Pete Martin, Manzanera relates that: "In Spanish Vozero means a spokesman, someone who utters words, a character singer. Dylan was considered a character singer because he couldn't sing; what were important were the words he sang. I've always tried to do something different, but it's taken me 25 years to be able to express in words what I'm thinking about in the context of both the musical styles that interest me and the friends that I play with. Robert Wyatt had a strong presence throughout the recording. I asked him to provide the vocals, but he insisted I should sing my own words... I don't really have the technique to sing in tune, so first I had to find a key that suited me. But if you believe in what you're saying, it doesn't matter what your voice sounds like. "
Yeah, sure, Phil. Well, obviously he believes enough that it doesn't matter. At least he got it sounding good enough to release. Sort of. OK, exactly what is Phil saying that he believes in? Thankfully, it's better fare than the usual ups and downs of teenage love affairs. In fact, he's pretty hip to social and intellectual causes, offering songs to the oppressed, the confused, the beautiful and the self-righteous. Phil's overall message of this album asks for us to accept diversity. To chill out. And that goes for New Age mumbo-jumbo as well.
And what does his voice sound like? It's disconcerting the first time you hear it -- so unbelievably similar to Ray Davies of The Kinks. Yeah, funny, eh?
Musically, though, it's an enchanting ride around the world and back in time.
Manzanera's Mindfull of Musical Chops
The album opens with Vozero, a flashback to the ethereal voices in Kubrick's 2001: A Space Odyssey, when they find the obelisk on the moon. This acappella oohing and aahing, one surmises, represents the coming of The Spokesman, and the first character the voice assumes is the kindly rationalist of Mystic Moon, a pleasant pumper in which Manzy lays out his matter-of-fact ideas about New Age philosophy:
Let's unravel astral travel
Let's pretend it's all a game
Like where we're going to end
Where we come from
Is it all the same?
Right on, brother Phil. Trash those unanswerable "why" questions. But he means it in the nicest possible way. This happily skeptical message is couched in a magnificent musical idea: Robert Wyatt plays an "All Hail Caesar" pomp & circumstance trumpet riff over a shuffling drum and punching bass. It rolls like riding a horse. The effect is like the soundtrack to a roman gladiator movie. The bridge is a Persian-style single voice soaring over a raindrop guitar effect. The song is well sung, but Wyatt and Billy Nicholls protect Manzy's voice with backup vocals.
From ancient Italy we fly to Australia via South America, as Verdadero begins with a roundly percussive burp that sounds aboriginal, then slides into a desperately smooth fuzz line by Phil -- the usual nice slow workout build -- done in slightly psychedelic style. Mostly instrumental, this song finally fans out, like a river flowing into a valley, before gathering steam and channeling into a spoken Spanish haiku:
Real love. Love I feel
Come from the sky
With the sun's rays.
Equally psychedelic lyric. Didn't I write that down during my last acid trip? Oh well, no matter, the guitar line is superb. Then, as the last of the diggery-do burps fade, we segue once again into another musical bridge, a Broadway musical kind of upbeat opener, then once again to a screaming guitar, long sustains, and then... the biggest surprise... Manzy's voice is foregrounded on a lightweight pop ditty called Tuesday, which has his synthesized voice sounding suspiciously like a warbly Ray Thomas of The Moody Blues. It's a song about trying to write a song even though the day of the week isn't a Tuesday, because the writer's Mom always used to say, "It happened on a Tuesday" -- so how ya gonna write a great one, yadda yadda.
Rayo De Bala is Phil's homage to his Catalonia of Havana. He was living there when Castro took over, and has ugly memories of soldiers in the streets. The song, shakily sung, is about revolution and kids and those moments of danger when you "learnt how to pray". Again, the guitar work is superb, with high, crashing echoed notes in an aggressive Santana style... bottoming out to a flat fuzz and a realistic bomb burst.
The Art of Conversation follows, and this could have been stolen from the Kinks catalogue. Phil does an eerie Ray Davies voice and neatly captures that Ray Davies brit middle-class sarcasm:
I do appreciate your sense of devotion
You never hesitate to tell me
If I'm right or wrong
And now it's oh so clear
Loving you, there is nothing to fear.
Of course the word "fear" is emphasized. If I were the other person, I'd hire a food taster. The groove here is a nice, bouncy background for the vocals and Phil's one-octave range. Cleverly done.
The cd's only instrumental, Vida, follows. Sweeping Spanish guitars, trumpet, synths, piano... it's Pink Floyd at the bullfights that jazzes its way to a Tangerine Dream-like sequence of looping oscilloscopes, Miles Davis-like trumpet punches, and a Darth-Vader sampled voice. This one would be fun as a road song.
If Vida can make you feel lost in space, no prob... c'mon back with Golden Sun, a snaky, sexy love song with a fantastic chorus hook, pump-it bass line and oh-yeah lead break that starts off with a clear flame and builds to dirty nuclear. Probably the best-sung song on the album as well, so Phil can take a bow here... better lyrics, good voice, kickass guitar... this shoulda been the single.
Mundo Con Paz follows, another world music piece, and this time Phil has the same chorus,
World with peace
A world with peace
Jesus
Give us a world
With peace and love
repeated in Spanish, Portuguese and some African language. The track features an up tempo, South American beat -- probably in 6/8 time -- with distant percussion and insistent guitar -- jeez, this guy is fluid -- that suddenly rolls into a traditional folk melody as different ethnic choruses do their best John Lennon with the words. Hopefully, Yoko will never cross this guy's path.
The next song, Hymn, is the kind of self-help song you'd write if someone you loved, but didn't know very well, died. The lyrics are a little corny, with cliches about long roads and deep rivers, but they'd oddly confessional, too, which adds to their honesty. Again, the guitar is very expressive.
La Vida Moderna closes the album. It's in Spanish and English, doesn't remind you of Ricky Martin, and is probably the most serious of the message songs. It moves along quickly, features some OK singing, and delivers the final admonition:
A habitual story of the 90s
Search for an ideal
That is never to be found
Each is just as good as the other
Still no answers and no solutions
Perfect bumper sticker for the concept of post-modernism, doncha think. But just what do I mean when I say "post-modernism"? The theory is generally ascribed to art in general, not just music, as the eclectic style in rebellion against the individualism, the avant garde of modernism. Bluntly, it means collage, rummaging through already invented icons to create newness from the old. In music, it means that musicians like Manzanera can reach into their bag of compositional tools to find uses for rock and jazz and classical and folk and aboriginal and anything else they can find. A post-modern approach gives artists the ability to blur all genres into one ultra contemporary school. Now, culture critic Lawrence Russell contends post-modernism in music means we have more people creating music than are listening to it, and while that may be true in this MP3/Napster/CD burning generation, the post-modernism I refer to is collage-building, self-referencing, corporate music, that sampling successor to new-idea modernism. Rock has always been post-modern, by the way, so this may not be that big a deal.
For all you technical nuts, I was also able to uncover the axeman's list of guitars used on this cd: "Mainly a 1957 black Les Paul Custom, my Firebird, a Chet Atkins guitar for the Spanish guitar bits, a Guild 12-string acoustic and a 1951 Telecaster. I used my Blade for all the rhythmic parts plus the lead sound on Rayo di Bala, which I was very pleased with. Nearly all the solos are played on a Marshall head straight into the desk, not using a speaker." Cool.
www.manzanera.com
Manzanera's website is thankfully different than many I've seen, which are relatively thin on content, but fat on merchandise. Often, fans run all the best rock sites. You can't pay people to be obsessive fanatics. Phil's site, however, is a corporate extension of his Expression Records, and it's a warehouse of Roxy nostalgia, wrapped in a jewel case of cds. In Phil's case, it's been so long since he was a commercial "property", he can afford to sever relationships with all record companies, restore his rights to his songs, and reissue everything on his own record company. That means he can do what the big record boys can't -- he can add bonus tracks and individually sign each cd. We're not talking platinum numbers here -- his site has only 60,000+ hits. He has also mined his own past, issuing live recordings and studio jams/outtakes -- even his interviews -- stuff normally destined for the bootleg market. Plus the back catalogue of his Roxy sax player, Andy MacKay. Mind you, I got my copy of Vozero at a local big record emporium, so he must also have a distribution deal.
A Mazterful Record.
Vozero. The Spokesman. It's a very good listen. I'd recommend this cd without reservation. Sure, the singing is a tad suspect in places, but the man can play guitar like ringing a bell, and he and Robert Wyatt are a potent musical force, laying down everything from pure power rock to crazily pastiched world music and funky latin rhythms. You'll enjoy it.
OJO RATING:




© Rick Ojo McGrath JAN/2001