---
The Winslow Boy (1999) writ & dir David Mamet (adapted from the 1946 play by Terence Rattigan) cine Benoit Delhomme star Nigel Hawthorne (Arthur Winslow) Rebecca Pidgeon (Kate Winslow) Adam Gillet (John Watherstone) Jeremy Northam (Sir Robert Morton) Guy Edwards (Ronnie Winslow) Gemma Jones (Ronnie's mother), Mathew Pidgeon (Ronnie's older brother), Colin Stinton (Desmond Curry)
remake of 1948 version dir Anthony Asquith star Robert Donat, Margaret Leighton and Cedric Hardwicke
---
The Winslow Boy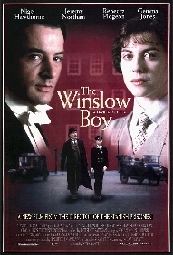 ...the sexual dialogue on which civilization is founded
Mamet makes an impressive recovery from the near-fiasco of his previous film (The Spanish Prisoner, that stilted psychological reprise of his first film masterpiece, House of Games). Strangely, this conservative anti-drama by the very English playwright Terence Rattigan is the perfect artistic shell for Mamet, who is raw American pleb by comparison.
Some might question this apparent collision of culture, yet Mamet and Rattigan aren't as dissimilar as their language suggests. Both are writers of manners, a trait typical of live theatre. The Winslow Boy is set in Edwardian England, features characters who are models of self-restraint, their pedigreed dialogue the watermark of Anglo civilization. Rattigan wrote about the bourgeois for the bourgeois... which is the main business of art in a democratic state. Typically his characters are tight, anal, silent running. Well-groomed and ritualized, their language is used to conceal emotion rather than to express it.
Mamet is also an exponent of the mannered exchange -- some say "stilted" -- that has its origins in the live theatre rather than in his natural American environment. The rhetorical scatology of the salesmen in Glengarry Glenross is a thing of beauty, where emotion is fused into a searing free-market poetry. His characters are all emotion, typical of a modern culture where self comes first, and diplomacy is almost irrelevant. A Mamet world is a long way from Edwardian discipline with its concealed sexuality, walled gardens, Winslow Homer nautical paintings, Oliver Cromwell busts, and suffragette politics....
'The curtain rises to disclose'
Arthur Winslow's (Nigel Hawthorne) South Kensington house is as secure as a well-crafted ship -- the panelled walls, the drawers, desks and cabinets etc gleam with the varnished burls of exotic woods, a place where a retired naval officer would be every much at home as is this senior banker and his family. His son Dickie (Mathew Pidgeon) is cheerfully failing at Oxford, yet quite prepared to follow his father's lead and step down into banking. His daughter Kate (Rebecca Pidgeon) is the real competent, an earnest young woman who embraces the trendy Fabian egalitarianism of the moment and a hulking officer of the Horse Guards. The baby of the family is Ronnie....
Cut To: a twelve year old boy standing stiffly in the verdant garden, despite the steady rain. He is wearing a navel cadet's uniform and clutching a letter containing his expulsion from the Academy on the grounds that he stole and cashed a fellow student's 5 shilling postal order. This is Ronnie Winslow, another boy victim reminiscent of those so magnificently established in the novels of Charles Dickens.
Ronnie (Guy Edwards) is the real crisis on which the action of the drama revolves... his father, convinced of his innocence, sets about clearing the Winslow name. In order to take on the sealed, autocratic institution of the Admiralty, he enlists the services of Sir Robert Morton (Jeremy Northam), the best advocate that money can buy. Needless to say this champion is another familiar male figure from the annals of English lit, a self-assured aristocratic beast not unlike Lord Byron. Byron said that "all good prose resolves itself as blank verse" and certainly the smooth syllogisms of forensic Sir Robert are as close to poetry as naturalism will allow. While his arguments in the House of Lords are one thing, his elliptic exchanges with the subtle beauty Kate are another. Naturally they circle one another like animals dressed for Spring. With her suffragette ideology and (we can assume) protestant ethic, she is very suspicious of the pandecting Sir Robert.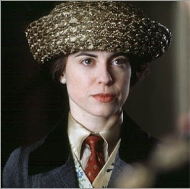 There is no coarse groping in this sedate argument for justice. After thanking Sir Robert for his triumphal work at the garden gate, Kate says (in reply to his chiding about her suffragette work), "How little you know about women... well, goodbye. I expect we'll never see each other again." Sir Robert touches his black Regency hat (the kind that only pallbearers in small towns and bad movies continue to wear), says, "And how little you know about men...."
Typically, socialism is dressed as a female, with conservatism as the male brute about to be had. Justice is the sexual dialogue on which civilization is founded.
Kate's Horse Guard lover -- aligned as he must be with the military establishment -- is discarded by his own design... (and Rattigan's) as he must side with the military establishment that pays his salary. The narrative symmetries are perfect and French, like the models the young Rattigan emulated as a student at Harrow.
It's a superb directorial interpretation by David Mamet. He overcomes the play's natural stage inclination to wordy discourse and stasis by moving the characters smoothly and naturally within the Winslow house as if they are dancing with the camera. The blocking is seamless. The entire opening scene flows with such a natural harmony you feel that you are a guest in the house, there for lunch perhaps. The art direction is likewise superb, the brown and yellow tonalities lifted from the scenes of the leading portrait painter of the period, the American ex-patriate John Singer Sargent. It's always good to see cinematography that is more than mere documentary effect.
'Films themselves that veer away from whatever residual taint of drama they may have had, and become celebrations of our mercantile essense, become, in effect, pure advertisement' (David Mamet)
Rattigan based his play on the 1910 trial of George Archer-Shee. Beyond his appreciation for the elegance of this play, you have to wonder what drew Mamet to it. Could it be its politics? A Winslow ancestor was one of the pilgrims on the Mayflower, and the first governor of the Colony. There's something about the dogged determination of Arthur Winslow that's very American.
And Kate Winslow? We've seen her around recently, haven't we....
LR 3/2000