burned by love, yet loves to burn
No doubt some people will find Behzat Ç too vulgar and too graphic in its scenes of torture and murder and general human anguish. Man's inhumanity to man (and woman and child) seems to be pushed well beyond the usual limits into a new kind of shock theatre. The photo naturalism becomes voyeurism. Chic downtown villains shoot victims between the eyes with sleek 9 millimeters as easily as blowing kisses and hi-life/low-life women knife enemies as easily as preparing a meal. Behzat Ç is violent alright and some will dismiss it as nothing more than a soap opera of death, too absurd to be taken seriously... or simply the folly of another 3rd World society pretending to be 1st World. The cheap sensationalism of homicide a la mode reduces human behaviour to a sick tango of sexy sadism and religious masochism. Predators, suckers, guns, knives... HGTV condos and open sewers, trendy clubs, cafes and hillside cemeteries. Sounds like Europe or the US, you think. You sigh, think, do I join in with some sanctions against the Ankara government or do I retire to Turkey, buy a jug of raki, and enjoy the ride?
So, in the end, is Behzat Ç little more than a commercial for this nihilist anti-social behaviour? Even Behzat himself sets a rotten example with his bullying, pro-active violence and lousy manners. He doesn't wear a uniform, dresses like a hood, drinks on the job, commits crime to solve crime, carries a badge yet operates like a gangster. If he wasn't protected by his boss and powerful, unseen people, he would be behind bars himself or prowling the sea-wall of some castellated mental home like Hamlet crying the midnight blues. Yes, Behzat suffers, and it's his suffering that allows us to see past his folly. He's a victim par excellence, a patsy, another rat in the prison lab of human existence. But he fights -- between the hangovers and the murders, he fights with a feral cunning, and even when the truth is killing, he forgives, survives, retains compassion, never surrenders completely to the dark side even though he wears a black leather coat.
Behzat. Burned by love, yet loves to burn.
"Suffer," he tells Harun, his deputy, when Harun goes into meltdown over Larissa, the grifter Ukrainian honeytrap. Or on another occasion, during the final showdown with Captain Suna, the hyper-feminist killer cop, when she cries, "But Behzat you torture people!", Behzat replies, "Yes, but I never kill them." While the nuances of legitimate versus illegitimate violence might seem ridiculous here because the degrees of moral separation get lost in the melodrama, the fact remains that Behzat absorbs more violence than he dishes out, and his personal suffering acts as a moral barometer in the game of right and wrong.
Even though he's a mess, Behzat functions quite well, just like Robocop, injured on the inside but rockin' on the outside. He's all business, a man of few words, preferring an Esperanto of grunts and curses, body feints and eye flashes over talk. He's so economical with language that he hangs up, or walks out rather than says goodbye or hello baby. This is especially true of the first season, when he's driven by the need to find his daughter's killer; by Season 2, you see a gradual softening in his manner (and that of his team), as if the government has told the producers of Behzat Ç that they'll shut the series down if they don't present the police in less fascist way... or perhaps it's just the script writers introducing political correctness into the scenario. There is a decided movement from the killer as evil to the killer as victim as the episodes pile up and the plotting moves inward. This is good, as it confirms humanity in a rather inhuman landscape. Not for nothing is Behzat stuck in a loop of predator and prey, symbolized by the wildlife documentaries he watches at home as he drinks himself into a stupor on his down-market suede throne.
He frequently sleeps where he passes out, fully-clothed, fully bohemian. In truth, Behzat is more like an artist than a detective, bucking convention as he does, living in fashionable squalor (his house is furnished like a cheap motel, its generic indifference at once anti-materialist and personal), yet seeking beauty as beauty is the only reason to continue living. He craves the female touch like a wild dog who can only settle down when stroked by a magic hand. Yet you do wonder if in fact Behzat is just another in a long line of Turkish bullies who use corporal punishment and violence to extract a confession just for the sheer pleasure of it. Just because he looks cute with his boy hippy haircut and western desperado moustache and dangling prayer beads doesn't mean he's a 21st Century liberal hep cat. For those of us who live further west, his swash-buckling slouch and strut is a manner we admire, a style we all harbour when we're tired of voting and nothing gets done. Behzat gets things done. He might be rough, but he's honest, and if he punches a woman in the face, well it's an honest mistake. Lawyers exist, but they only exist to clean up the mess. In fact, by Season 2, he marries a lawyer, the Public Prosecutor Esra, and she cleans up his mess, although she pays dearly for it.
The Freudian nightmare that is his life deepens like an ancient hereditary wound, echoing Oedipus or Lear or any doomed tragic hero whose misery transmits through the ages in dreams and in the genes of the deranged. When Behzat is remanded to a mental hospital following the suicide of his undergraduate daughter Berna -- actually murdered, although he doesn't know this yet -- fate delivers to him a new daughter, Süle, who becomes his saviour... and then, like a poisoned chocolate, returns him to the abyss once again. An unknown child from an old flame -- herself a suicide because of Behzat -- who in turn murders her half-sister in a jealous attempt to usurp this 'woman' in Behzat's life. It's tabloid, like anthrax in the mail... or UFOs seen through the windshield: he wants to believe but somehow the lies keeping coming.
He has conversations with multiple selves -- five, typically, like stand-ins for the five members of his squad. His old friend Tekin is murdered -- bad enough, but when he learns that Tekin had been corrupted by the gangsters who seem to control the higher echelons of the police and the judiciary, even worse. Hope fades like a bad screw.
Strangely -- or perhaps typically -- Behzat is the centre of the universe. His squad waits anxiously for his arrival, stand up when he enters, and even after hours, can't drink too long without him. Even the arch-villain Escrüment Çozer doesn't want to live without him, even though this prick cop has screwed his business schemes, vanity murders, and sex life, has forced him into exile for a period, even though he's the only one who seems to have the answers to Behzat's problems. He knows who murdered Berna, he knows Behzat's mother is alive and scheming, he knows who the bent officials are and the lines of corruption in Ankara... this chameleon criminal knows all this as the voice inside a madman's head knows, he knows, he knows, he knows what Behzat needs to know. Therefore it's no surprise that by Season 3 Escrüment decides to "collaborate" with Behzat, especially when it comes to finding out who ordered Esra's killing.
As a character, Escüment Çözer starts out real, but as his outrageous killing spree (mostly matters of "disrespect") in defence of his sex life and business operations gets out-of-hand, his believability is only sustained by photography. It's the cine and film editing that makes us cringe and thrill to his master criminal agility, not the psychological portraiture. As a disco Cassanova with a 9 millimeter and a nuclear credit card, he's acted to perfection by Nejat Isler. The smile, the earrings, the up-market cars, the wine, the coke, the babes, the lackies ready to clean up his mess, a helicopter hovering nearby... sociopath, psychopath, anthropath... an Anatolian thug with a jet-set life-style, happy in Istanbul, unhappy in Ankara... except when he's messing with Behzat. As imagery, he provides comic relief from the grim social realism of the working class murders, student riots, Gulen lefty protests, robberies and domestic miseries. When he screws on his silencer to take care of business, you might think (briefly) of the need for more gun control, but more likely you're left thinking how easy it is to die at the whim of some jerkoff who takes offence too easily. Escrüment Ç isn't a character -- he's Death. He never had a childhood, never had a family, just arrives, fully-formed and goes about his dirty business. You cut finger-nails, EC cuts people. Behzat hunts killers, EC... hunts.
He's not alone. He has a pal, a minder of sorts, another hitman in the employment of the Circle. Basgan Memduh. You might think of Danny Devito when this guy arrives. He's bigger, although not by much. Less funny, although not by much. He loves to eat, worries about his weight, reminisces about his time as a special ops commando eating snakes in the mountains. He shoots people too, and when EC is in hiding or in exile, acts as an understudy. You're not quite sure if he's a partner in equal standing with EC or if he's actually his handler, someone who checks EC's excesses and supervises his escapes. The "Duck Man" tries to eliminate him but somehow it's Memduh who eliminates the Duck Man. You're not quite convinced by this scene beside the lake -- the razzle-dazzle gunplay depends too much on camera editing rather than real action -- although you hang in there for the laugh and because Memduh has become quite endearing... like a favorite dog who shouldn't be killing the bunnies, but it's in his nature, so what can you do?
---
A pack of feral dogs is briefly illuminated by a streetlight, cross the highway ramp after a vehicle passes, disappear into the shadows on the hunt for food. In a condo, a man 'murders' his sex doll, and the day of Harun's wedding to a traditionalist girl chosen by his parents, Ankara goes nuts with violence and murder. Man with a shotgun shoots up a cafe, while another man knifes his wife after he dreams she was unfaithful... and once again Ghost gets involved with a murderess.
A traffic cop moonlights as a cartel sniper. A hitman whines about his weight. A kid kills his grandpa with a pen. Etc.
Aristotle says "Drama is an imitation of an action". Today, the media feed-back loop accelerates the emotional need to imitate anything, including the imitation. Despite the moral imperative invariably contained in endings and exits, sex and death remain the most imitated events.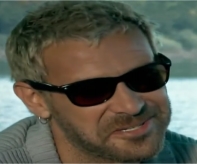 Nejat Isler as the disco cassanova business man Escrument Cozer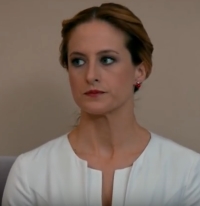 Esra, Prosecutor and Behzat's second wife
---