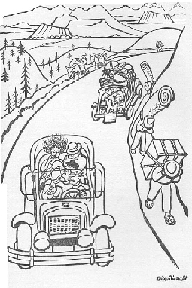 I made the trip from Mexico City in the Packard German Trenza drove so expertly....
While our aides took our luggage upstairs to the rooms assigned to us, we went to the basement game room.
Juan was playing with Fatty Artajo, who was a rotten player. When we appeared, they put down their cues and looked solemn.
"We're going to have to ask you to make a great sacrifice, Lupe...."
---
She lifted her veil (because she was wearing a hat and everything) and I felt instinctively that she loved her husband so dearly that she would be receptive to my advances if I agreed to let him go. Or rather, she loved his money so dearly. I stood there, looking her over, then thought to myself: This woman isn't worth anywhere near 600,000 pesos, but said nothing to her.
---
Selections from The Lightning of August by Jorge Ibarguengoitia, edition by Chattos & Windus, London 1986. Translated by Irene del Corral.