---
Two Crimes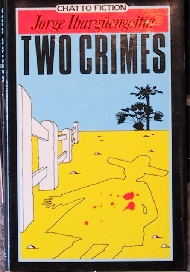 A young commie called Marcos a.k.a El Negro has to flee Mexico City because the authorities are onto him, takes refuge with his Uncle Ramon, a wealthy invalid in a small town to the north. Ramon is pining after the death of his wife, and eagerly falls in with Marco's business idea to extract "cryolite" from a nearby abandoned mine and fronts him some money. The whole thing is a scam, of course, a means of raising some quick money so Marco and his "wife" and fellow "terrorist" (who is hiding out with her aunt) can hide together on the coast.
Meanwhile the other relatives are jealous and conspire against Marcos. But Marcos seems to have a way with women, for he's soon shagging both his cousin Amalia and her daughter Lucero. Amalia's husband, "The Gringo", tries to shoot him during a hunting trip. Don Ramon dies from poisoning, Marcos is suspected, but he disappears and his body is maybe at the bottom of a hot spring near the mine, the result of misadventure. But is all as it seems? Certainly not. Don Pepe, Ramon's lifelong friend and town pharmacist, plays detective... and human meddling and fate combine to turn a comedy into a morality play.
How does that sound? I say to Ajo.
Sounds like Two Crimes, says Ajo. By the guy whose name nobody can pronounce.
Jorge Ibarguengoitia, I say. It's a Basque name.
As in Spain? says Ajo.
So they say, I say. Man, he's a funny writer.
He's political, says Ajo. Was a journalist, wasn't he?
Not hard news, I say. Politics is just part of his natural skepticism. Remember what the guy in Two Crimes says about his sexual indiscretion? "What would so-and-so say if she saw me in this state over a woman with no ideology?"
When he's getting a blow job in the shower, says Ajo.
Pretty basic stuff, I say.
His stuff popular in Mexico? says Ajo.
I've seen his books in the supermarket, I say. Always wrapped in plastic.
He's not porno, says Ajo. Light humor.
"I'm Jesus Christ's age and don't even have a bathroom yet" says a character somewhere, I say. That's Mexico, eh.
Everyone's corrupt, says Ajo.
But it's a soft corruption, I say.
A cultural thing, says Ajo. A Latin thing. Everyone's on the take.
Rigid hierarchy, I say. You want something, you pay.
What exactly are the two crimes? says Ajo.
Good question, I say. Maybe what happens at the end.
Can't remember the ending, says Ajo.
Everything happens in twos, I say. Don Ramon gets poisoned, El Negro gets poisoned, one lives, one dies.
Well what goes around comes around, says Ajo. Right?
Right, I say.
So who's the poisoner? says Ajo.
A big river snakes in the gorge below, full water emerald like the groves of lush palms here and there on the pans. A red cigarette boat cutting the corners at speed... Diego Rivera making his getaway. Vaya con Dios.
We cross another span, follow a ridge into the teeth of the mountains. Dogs appear, lean like coyotes. Clotheslines, oil drums, shacks with cats shading below the water cisterns, here and there a crafts stall. And lo! In a saddle, like a mirage, a long beach with the ocean breaking.
The outskirts, small villas and huge boulders dot the hillside.
As we idle at the first intersection waiting for the lights, we watch some workmen working on a cell tower, high on the spider frame, happy in the sunlight. Ajo takes out his cell phone, tries Toronto... but it's no go.
Bus gathers speed, heads towards a tunnel. Old man is making his way towards the toilet at the back, gripping the headrests. Bus sways and he falls slowly into the lap of the young guy who's reclining with his girlfriend in his arms. Shrieks, giggles, tunnel of love baby! Blue darkness. The tires sound like zippers as the embedded lighting flickers past. Mambo party music on the intercom. Big diesel growls like a happy animal racing downhill for home.
Daylight. Boom -- Acapulco fills the windows, big, like a movie.
Do you think the universe is flat? I say.
© LR 4/2000
---
«««« back
«««« Diamente 1
«««« Bcourt