having ascertained the intimacy between Garroni and the subject
One night Guido Garroni waits for Fontana at the bridge, whom he knows will return home by this route to join his wife. But as it happens, Carloni has delivered his report, and Fontana has read it. Disturbed, Fontana stuffs it in his briefcase, leaves his office. In an eerie sequence we see the Gateman roll back the factory gate on its rails, and Fontana's car passing through, bumping over the puddles as it vanishes into the darkness. His assassin awaits... but is it Guido Garroni? Some might consider what happens next to be an unbelievable coincidence, a crude exercise in authorial intrusion. Yet the action is inevitable, especially when linked to the ambiguous death of Giovanna.
There is no question that Guido has set out to shoot Fontana. He has cycled to the bridge and is waiting with his automatic in his right pocket. Dogs bark, typical sounds in the deep ambient reverb of the rural countryside at night. In the distance, a car is accelerating, the engine tuned to a racing snarl. Guido is briefly illuminated by the headlights of a passing car heading the other direction... then he hears two bangs, which could be shots or backfires... startled, he takes out a cigarette, then hears two more. He looks down the road, sees two headlights, gets on his bike, rides that way.
A car is overturned and burning in the irrigation canal, and a man's body lies on the embankment. Another man -- perhaps the driver of the car that just passed Guido -- is reading the victim's license or identity paper: "Enrico Fontana... etc." Another man appears, and they lift Fontana's body onto the shoulder as Guido arrives. "Look at that," says one. We don't know it at the time, but he's referring to a hole in Fontana's throat.
What is this? A self-inflicted wound? An assassin's bullet hole? A wound from the crash? We never find out, and the hole becomes a mysterious stigmata in a mysterious finale.
Technically this is the climax of the film, not the ending. There is an epilogue, where Paola, fearful and desperate, dressed in a long cocktail dress and swathed in fur, meets Guido on a dingy back street, tells him the police are looking for her. Guido tells her she's mistaken, that her husband is dead, but not by his hand. They get into her taxi, and he delivers her to the doorway of her mansion before continuing to the railway station alone. Abandoned on the steps, Paola writhes in despair like an inmate waiting admission to the asylum, beautiful and mad -- a widow by both accident and design. As Guido's taxi disappears down the street, perhaps we notice a figure emerge from a parked car. Who is it? Was this scripted or is it just an event at the location? The credits roll, and the action closes on black.
in the architecture of all things real & unreal
The film is non-judgemental, is as objective as the narrative allows, although we all know that an edited event must proclaim some sort of bias. Religion plays no part in this film, as it would, say, in a Fellini drama. The action is entirely modern, although guilt drives the principals. The psychology of Paola suggests a child dressed up, although she has no obvious Freudian modus operandi. The fact that Lucia Bose was just 19 when she played the part supports this impression. As for Guido, he appears absolutely normal, and Italy was probably full of similar young war vets struggling to get by in the late forties. Neither devious nor greedy, he just drifts like someone whose potential was stymied by the war, and when he sees Paola again, it's like winding the clock back to the days before the death of Giovanna. Unfortunately Paola is fatal for him, although not so fatal that he can't disappear into the night. This isn't Double Indemnity, where everybody must die.
The sociology of time and place is very interesting in this film, delivered as it is by the neo-realist locations and the modernist action. It is the world as Antonioni found it in Milan, Italy, in 1949. A little shabby, still hungover from the war, still in the emotional winter, yet with a fantasy class living in their upper floor world of fantasy fashion and endless parties. The underclass is there, represented by Valerio the car dealer and his mistress Joy, the Professor and Matilde, Guido and even Paola, as she is a fugitive hiding in the nouveau riche. The middle class is trying to reestablish itself, edge closer to that luxury that Enrico Fontana represents -- nights at La Scala, drinks at the "Little Bar", cigarettes and cinzano, Maseratis and Alfas.
In the architecture of all things real and unreal, there is nothing like the aristocracy, a living symbolism of the way it can be for all Italians. While neo-realism's signature is the face of the underclass, drama has historically dealt with the affairs of kings and queens, the aristocracy and those we elevate as heroes. In the 1920s, European expressionist drama was full of ideology and modernism, and frequently dealt with the industrial classes high and low. Industry is a fantasy of the future, identifiable as it is with an easier way of living, playboys and playgirls and their toys, their romances, their tragedies. These are the people who can afford art, and live as if they're living in an art gallery, a sensibility Antonioni established very clearly in many of his later films, including La Notte, Blowup and even Zabrieski Point.
This gallery consciousness isn't exclusive to Italian post-war directors, as it is a lingering legacy of live theatre set design, and even Hollywood exploited landscapes in this manner with its film noir cities and geological westerns. All film has sociology, yes, but Antonioni also has style, and the balance of his style, his personalism, against or within the rigors of documentary neo-realism is impressive.
© Lawrence Russell / Dec 08
«« Film Court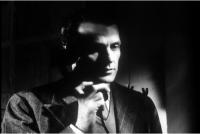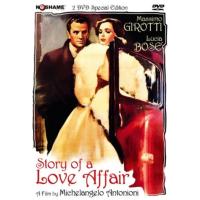 A digitally remastered version of Cronaca di un Amore (Story of a Love Affair) was released on DVD by NoShame films in 2005. This version of Antonioni's first dramatic feature is the one restored by the Cine Citta Studio lab in Rome. The DVD package contains a booklet with the complete details of this restoration process, plus an interview with Antonioni excerpted from the Italian magazine Cinema, April 1950.
All Antonioni quotes in this feature were taken from this interview.