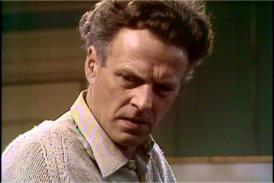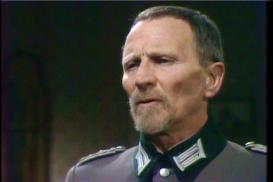 § Dr. Philip Martel (Bernard Horsfall) is invited by the Bailiff to join a negotiating Committee in anticipation of the occupation, leading his daughter Clare (Emily Richard) to accuse him of collusion. After the Germans arrive Dr. Martel and the Committee face the invaders under Major Richter (Alfred Burke), who refuses to recognize the island as a demilitarized zone and puts it under martial rule. Thus, Martel and Richter are immediately at loggerheads... yet while raised voices and shouting are a frequent part of their encounters over the next three or four years, these two principals develop a pragmatic working relationship which for the most part seems to work. Just like the black market the Germans are forever trying to shut down, both parties function within a necessary quid pro quo -- you scratch my back, I'll scratch yours... or, you slap me, I'll slap you... somehow.
The approach here is to set one "family" ensemble off against the other: the Islanders, represented by Dr. Martel, his wife, son and daughter (and fiance) versus the German administration command under Major (later Colonel) Richter. Richter -- who was a Cambridge professor for 9 years, knows the British well -- is a cultured Wehrmacht Officer, is sensitive to the situation, and is determined to set up a functional administration that will see the Islands' eventual integration into the Third Reich. It's not that he would rather be somewhere else but war is war and, as he says later, "human evolution is an obstacle race". A moralist, but in the crunch, a realist.
Things don't start well. The Martel's prospective son-in-law, an affluent local land owner called Peter Porteous (Richard Heffer), tries to escape the island for England at night in an open boat; his accomplice, a local fisherman, is shot and killed by a shore patrol, and while Porteous survives the machine gun fire and swims ashore, he is forced into hiding. In the second episode, the local librarian Miss Brown gets two years from a military court for refusing to apologize for injuring an SS officer during a dispute over "decadent" books proscribed by Berlin, and is shipped to a KZ camp in France. And in the third episode a young Viennese soldier is sentenced to death, tied to a tree in a garden, then shot for raping a young local girl, the daughter of a lawyer, John Weston (Ray Smith), a WW I vet who despises "the Bosch". The story is interesting as there is some ambiguity about the rape, the daughter's psychology, her uneasy relationship with her father (single parent), and his bitterness over the appropriation of his Rolls Royce by SS Haupsturmführer Reinicke (Simon Cadell). Beautiful girl, beautiful car, bad Germans. Yet Kommandant Richter doesn't hesitate in approving the death sentence, ambiguity be damned, and we're left wondering if the young soldier was a sacrifice for the New Order, a signal to the Islanders that German justice plays no favorites.
The fourth story is not only peculiar but pivotal. Steel Hand From The Sea (writ Kenneth Clark) explicates the tragedy and the cost of war for both sides in a brutal yet mystical way. Martel's son Clive returns secretly to the island to spy on German fortifications but is betrayed by his old business partner at the motor cycle shop, Teddy Lupus, a Judas in league with a German soldier involved in the black market. Instead of being shot, Clive is sent to a P.O.W. camp in Germany out of sympathy for Dr. Martel by Major Richter and his deputy. But this is really just a back-story to that of Clare Martel and Leutnant Willie Kessler (Martin Jacobs), a disfigured Luftwaffe Stuka pilot fresh from combat in Poland.
Spring day... Clare arrives at the local chapel to place some flowers at the wall plaque/shrine commemorating her fiance's father, Captain Ralph Porteous of the 56 Squadron, Royal Flying Corp, lost in action, 1918. When she realizes she's being watched by a German sitting in a nearby pew, she angrily challenges his right to be there. He turns to face her, reveals his disfigurement, a crash burn that has left his right eye closed and his cheek hideously scarred. He says, "I am Catholic too... don't I have the right to be here?" Alert viewers might notice that, despite the Luftwaffe uniform and burns that mask his face, Kessler bears a close resemblance to her fiance, Peter Porteous, and could be a prefiguration of what might happen to him should he succeed in escaping from the island to join the RAF, say. Although she's shaken by the encounter, her anti-German resolve hardens, especially when she learns that her brother Clive is hiding on the island.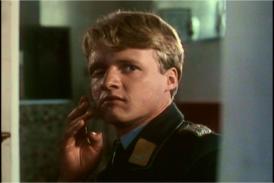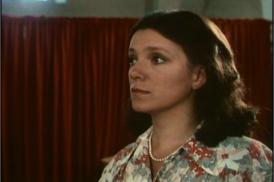 We know Kessler is contemptuous of the Nazi dream and the process of war from his cynical recapitulation of the Polish campaign at the officers' nightly schnapps gatherings. It was fun at first, but later it was not. It's obvious to all that Kessler is passing into treason or suicide. Richter and his deputies recommend he visit a certain promontory, scout it as a possible emplacement... or perhaps it's a suggestion that it would be a good place to throw himself into the sea. There's an ambiguity to the order, as if it's code for an officer's right to "fall on his sword" if need be.
It so happens Clive Martel is hiding on the beach and when Clare shows up they spot Kessler standing on the cliff smiling down at them. As Clare believes Kessler overheard a conversation about Clive, she assumes his appearance is connected, panics, urges her brother to "Kill him! Kill him!" Clive hesitates; Clare picks up stone and hurls it at Kessler as he turns away, causing him to stumble and fall onto the rocks below. The tide rushes in, and Kessler's body is drawn into the surf, then floats in a trough, bloody and inert. The incident is quick and hallucinatory, as if part of a private nightmare Clare has carried since the incident in the Chapel.
So starts the beginning of Clare's disintegration. Anyone familiar with Hamlet will detect undertones of Ophelia in her character, and certainly anticipate her fate. She carries the guilt of Kessler's murder through the next few episodes by becoming more withdrawn and depressed. However, she and her boyfriend Peter, frustrated by the pace of the war and not being able to escape the island, get involved in domestic espionage, mapping gun emplacements and photographing military equipment. When Peter successfully photographs a new class of German torpedo boat in the harbour, they conspire to get the photos and diagrams to the French resistance. In order to do this, Clare -- forever smug and blindly impetuous -- asks her father to pass an envelope to a certain Francois Duval, a resistance courier who works on the ferry, and is a relative of the young Martel housekeeper. Dr. Martel has been given papers to travel to Paris to pick up some essential medical supplies for the island hospital and is unaware of Clare's agenda.
During a routine boarding search, the espionage materials are discovered. Martel is arrested, along with Clare and Peter Porteous. When Martel begs to take the rap alone, that Clare and Peter are naive, Richter barks, "War is for professionals, not enthusiasts!"
But it's clear to Major Richter that Dr. Martel has been used, was a dupe, and in order to avoid a tribunal under the new Kommandant Major General Mueller (where all would've been found guilty and shot) due to arrive on the island at any moment, Richter sentences the Doctor to six months and Peter to twelve in the infamous Paris prison Cherche-Midi; as for Clare, he dismisses the charges, knowing that she is the cause of her father's misfortune, and perhaps connected to the death of Leutnant Kessler. When the SS Hauptsturmführer Klaus Reinicke expresses surprise at the leniency, Richter replies sagely, "I suppose you could call it the Judgement of Solomon."
Indeed. It's not long before Clare wades into the sea, tries to drown herself in a final Ophelian act. However she washes up on the beach and in a fitting irony is resuscitated by a German soldier, then taken to a German hospital. When she recovers, she enters the true prison of the spiritually damaged, a nearby nunnery. Not really a sympathetic character, the symbolism of her role spares us from gloating too much. Quick to judge and chastise her father, her fate was forged by her immaturity, sexual neurosis, impatience and inability to see the bigger picture. As Major Richter said, "War is for professionals, not enthusiasts."
When her father returns from prison, she refuses to see him.
In all, a clever and impressive story, and not just because it conjures Shakespeare and Freud, but because of the mysterious transformational nature of 'being' in the time of war. Some people adapt, some revolt, some die in the crossfire.
Women certainly don't do well in this series... except perhaps when Louise Gardner is a last minute replacement for her ailing husband Arthur in the Islands' chess championship final and defeats General Mueller, denying the German "New Order" its Master Race victory. Clare Martel defies her father, goes mad; Marie Weston (Sheridan Fitzgerald) defies her father, ends up raped and humiliated; Ms. Brown the librarian gets two years in a French KZ camp for 'injuring' an SS officer and refusing to apologize; her successor is also threatened with internment; Chantal Loutrec (Meg Davis) the jilted lover of Hauptsturmführer Reinicke, is reduced to working in an Island brothel, gets murdered by a German soldier; Betty Ridge (Norma Streader), works as a cleaner for the Germans, gets pregnant by one and ostracized for being a 'jerrybag'; Lily, the black Nigerian housekeeper is run down and killed by three SS thugs in their Kubelwagen... etcetera, etcetera. In the end, even Richter's wife back in Berlin is imprisoned by the Gestapo for slagging Hitler.
But do the men do any better? Does anyone? Maybe Foster-Symthe, Martel's replacement Committee liaison, who, after his black marketeering is exposed, his property confiscated and his housekeeper/lover murdered by the Germans, burns his house to the ground before escaping by boat to England. Interesting character... one of those colonial rascals who take life as it comes, crafty and pragmatic behind a facade of officious bluster. As he torches his house with black market petrol, he cackles, "I'm departing in a blaze of glory!"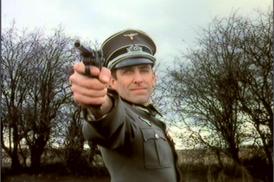 § The brilliant James Doran episode The Prussian Officer recalls a personality type from the past, a Junker class aristocrat who once formed the officer elite of the German Army, and which provided the Nazis with a cultural root to model their arrogance on... even though the Nazis were socialists. Hauptmann von Bulow arrives on Guernsey with the 396 platoon for a bit of training before being deployed to the new Russian front. He's such a larger than life character, his manner so dramatic, we think he has to be satire, that we're watching an episode of Fawlty Towers. Introduction? He snaps to attention like a shotgun. Need a drink? He snaps fingers like a pistol shot, barks "Schnapps!" and the waiter reverses direction like a salmon being yanked from a river.
He's not pleased to learn that Reinicke has the same rank as himself, albeit in the shabby new SS, a unit without tradition or class. He knows Reinicke from Paris and is surprised to run into Reinicke's old girlfriend Chantal on the street. He investigates, discovers that Chantal is working as a prostitute for the benefit of the German military. It seems Chantal has fallen on hard times. Her father -- a wealthy Parisian doctor -- was arrested by the SS on the charge of running a communist cell, quite possibly on information provided by Reinicke, for whom love always ranks second to career advantage. Von Bulow is inspired by this misfortune, recognizes a means of humiliating that upstart Reinicke. He orders his batman (Ordonnanz) Klinski -- a chump peasant from his family estate -- to go to the brothel that evening and have sex with Chantal. Chantal laughs at Klinski, refuses his custom; Klinski gets drunk, gets angry, gets even -- he murders her with a bayonet in an alley as she walks to her lodging. It takes a while but Richter's in-house policeman, Oberleutnant Kluge (John Malcolm) traces the murderer back to Peter Porteus' house, where von Bulow and Klinski are billeted.
Reinicke is humiliated when Klinski is arrested and the whole sordid story comes out. He goes to the officers' evening schnapps gathering, seeks out von Bulow, slaps him lightly with his gloves, his lop-sided face exaggerated by his seething anger. A duel? Von Bulow is only too happy to accept the challenge, although Major Richter intervenes, forcefully advises them to forget it.
Cut To: a sloping field ringed by bare winter bushes where the two adversaries check their Luger pistols as their seconds stand nearby; Reinicke goes left, von Bulow right, and they face one another about 40 feet apart. Slowly they raise their pistols... Reinicke aims, fires first, misses. We think, well that's it for him... and do we care about the malicious little SS bastard? Well, we don't care much about the elitist von Bulow either. He aims, his arm as straight and steady as an extended sword... then, after a little time torture, jerks his pistol to one side, fires into the air, dismisses his adversary with classic Prussian contempt: "I am an officer and a gentleman... you're only a bad shot. Come, gentlemen, I'm off to a real war where the real soldiers are."
You'd think this would be the end of Reinicke, that he'd be a laughing stock, want to leave Guernsey, but no, the sun shines on fools and lizards alike... and loyal Nazi SS officers even more, for shortly thereafter Himmler has him promoted to Major -- the same rank as Richter! No wonder he later exhorts Oberleutnant Kluge to join the Nazi party ("It's a question of loyalty")... Kluge, the ex-Hamburg cop, feels it isn't for him. "It's a question of loyalty...." Richter asks if the adverse is also true. Reinicke has no answer.
We know D.H. Lawrence wrote a homoerotic story called "The Prussian Officer" and wonder perhaps if the writer James Doran took anything from it. Was the von Bulow-Reinicke animosity the residue of a lover's quarrel? A Freudian scan of the subject is inconclusive... although aspects of the Lawrence story do have echoes here. A Captain and his Ordannanz compete for the same woman, although the Captain prefers the sensuality of his Orderly. This leads to a sadistic abuse of the Orderly, who then seeks revenge during some maneuvers.... It's almost the back-story for what happened in Paris, say, before Guernsey. But, as we know, both men die in the Lawrence story --