Blueprint for The Prisoner
"Once people enter Colony Three, they cease to exist" (Colony Three, writ. Donald Jonson, dir. Don Chaffey)
Fuller -- glasses, hat, raincoat -- exits a London terrace house, boards a double-decker bus, which is followed by secret agent John Drake (Patrick McGoohan) in his Mini. Fuller eventually gets off the bus, enters a building with a door plaque reading Citizen's Advice Bureau. In a room, he starts packing a black duffle bag; perhaps we notice his reading for the journey, a book called "The Theory of the Neutron Ray" by Boris Turgenev, a modest clue that perhaps he's heading for the Soviet bloc [Boris Turgenev was a Marvel comics Soviet super-villain who wore the Crimson Dynamo exoskeleton body armour for his fights with Iron Man]. Drake enters, surprises Fuller, says, "My Principals want to have a word with you before you leave, Mr. Fuller."
Cut To: Drake and his boss M watching a sweating, dishevelled Fuller, over a TV monitor in M's office. Fuller is denying that's he done anything wrong, reiterates his itinerary. M shuts off the monitor, tells Drake that over 400 UK citizens have disappeared "over there" since the war... why? "We're switching the records on Robert Fuller -- you're going out there to take his place."
So Drake becomes Fuller -- raincoat, glasses, doctored passport and resume. Drake takes a Comet 4C airliner from London to an unnamed location (perhaps Prague) behind the Iron Curtain. Drake/Fuller is met and hustled into a black van, which takes him to the loading dock of a bland railway station. Armed unfriendly soldiers check his credentials, and he is escorted quickly to the train. Drake -- inhabiting the Fuller persona -- blusters about his treatment, says, "This isn't what I was led to expect in London." The official replies, "Mr. Fuller, you are here to work for us and you must accept that there is a good reason for what we do."
Indeed. While it's no Nazi death train, Drake quickly discovers that the carriage windows have been blacked out and sealed, and that his fellow passengers have no idea where they are going. The totalitarian denial of freedom has been established. He shares a compartment with a chippy Australian communist called Randall, and a young female librarian called Janet Wells. As the train gets underway, Drake does a crossword and Randall does most of the talking. "They want me to work with a combat school... well, I was with the Special Brigade in Spain... I'm an electrician, well, really an engineer." Etc. You quickly get the idea that he didn't get the respect he felt he deserved in London. He speaks some Russian, is optimistic about the future. Drake nods towards the sleeping girl. "Her?" says Randall. "I think she made a mistake."
It turns out that Janet is looking for a boyfriend called Alan Bayliss, who used to work in the same library. When his letters stopped coming, she decided to follow. "I'm rather fond of Alan," she tells Drake [who, as per all Danger Man episodes, is always sympathetic to a damsel in distress, even if he never takes advantage].
The train arrives at a bleak wasteland, an east bloc prairie in pre-winter. As they disembark, a London double-decker bus approaches [similar to the one Fuller takes in the opening scene]. To everyone's surprise, the route sign says, "Hamden, New Town, 12." They board Number 12, and Randall tries to engage the driver, find out where they are going. He uses Russian, but the driver ignores him. Quickly they arrive in Hamden, New Town, and as they get off, Randall says, "We seem to be right back where we started."
The true absurdity of the situation is later reinforced by a brief appearance of a London bobby, none other than Constable George Dixon from another popular UK TV drama series of the mid sixties, Dixon of Dock Green. While it's just a moment, and to some extent an in-joke, this clever detail nonetheless helps reinforce the madness of the social paradigm that is Colony Three.
Their handler appears, says, "Welcome to Hamden. My name's Richardson. I do hope you had a comfortable journey." Richardson (Peter Arne) has the smooth manner of a born PR hack, yet with a hint of menace, a man with a hidden switch that can render him as an instant psychopath. When asked about the impossibility of this being an English village, he goes straight to the metaphysical nub of the situation: "Geography is a matter of physical illusion... lines on a map, words on a signpost." He clinches with: "Mr. Donovan says all countries are countries of the mind." This might be some hip Zen-think or self-serving Marxist propaganda, yet the facts are soon clear: Hamden New Town is a culture-simulator, a staged society for programming Soviet agents in "Englishness".
Incredible? This brilliant 1964 Danger Man script by Donald Jonson owes its genesis to the Cold War notion that Potemkin Spy Villages existed in the Soviet Union for training agents to infiltrate British and American institutions. Whether urban myth or Cold War fact, these life-style immersion locations took their name from Prince Grigory Alexander Potemkin (1739-1791), the favorite minister of Catherine the Great. He created a number of new towns and villages in the southern steppe regions and the Crimea, not all of which were entirely real. Painted facades were used to simulate real villages, perhaps to intimidate the ungovernable Cossacks or impress Catherine on her tour.
For those who know the cult McGoohan series that followed Danger Man/Secret Agent in the fall of 1967, the similarities between Colony Three and The Prisoner will be obvious. Patrick McGoohan has said that his idea for The Prisoner came primarily from its Port Mereirion (Wales) setting, as four or five Danger Man episodes were filmed there, starting with the pilot, View From the Villa. Villa is set in Rome, yet the Port Mereirion locales look legitimate enough, especially as most of the action is interior. The plasticity of the architecture -- which McGoohan described as looking like a holiday resort -- was a convenient passport to the surrealism that The Prisoner's raison d'etre required. Colony Three wasn't a Port Mereirion location, yet its closed-system world is the prototype for the Kafkaesque no-exit asylum that is The Prisoner. Colony Three is real, The Prisoner is surreal, yet both function as a metaphor for all that is incomprehensible about life in much the same way as Samuel Beckett's famous stage play Waiting For Godot does.
the season is winter
It should be noted that Don Chaffey, who directed Colony Three, also directed the first episode of The Prisoner. Don Chaffey also directed Such Men Are Dangerous (writ. Ralph Smart, DD series Producer), which also has some narrative similarities to The Prisoner, and especially to Colony Three. Here Drake masquerades as a con in Wormwood Scrubs, and when released, infiltrates a political assassination squad run by a rogue general from a gated estate somewhere outside London. Again, Drake gets there by train; again, the season is winter as if the Cold War is stuck permanently in one psychological season. Again, as in Colony Three, one of the inductees tries to escape after becoming paranoid about what is being asked of him i.e. be part of an illegal hit-squad to kill undesirable foreign heads-of-state. Drake is sent by "the General" to kill the defector -- Taylor, his roommate at the estate -- but through his usual secret agent modus is able to save Taylor and spoil the nefarious plans of Major Latour (Lee Montague) and the General (Jack Gwilliam). The General's pretty wife gads about the estate in a jeep, and always seems to intersect with Drake whenever he's dodging through the rhodos sending messages to M or spying on The Order. As usual, Drake's crafty charm keeps him one step ahead. As is often the case in Danger Man, the action is coolly satiric (the country estate, the duck hunting, the class system).
The acting in Colony Three is excellent, especially that of Peter Arne as Richardson (the prototype for "Number 2"). As his character is by training an act, the ambiguity of his actions are a perfect foil for those of Drake masquerading as "Fuller". The scene where he invites an overly curious Drake to sit in an interrogation chair, then tortures him with electric shocks (by way of a demonstration) is very good. He extracts a confession, yet the agile Drake is able to hold character, throw the confession into doubt. When he eventually tries to kill Drake to prevent his return to Section 1, but dies in the attempt, you have no sympathy... and of course it will come as no surprise that in real life Peter Arne -- who played villains in many TV dramas and feature films, including The Pink Panther -- was bludgeoned to death in his London flat in 1983 just like Joe Orton. His personal story is not a pretty one, yet he was a very good actor.
The character of Randall, the electrician, played by Owen Glyn is a morality tale onto itself. He doesn't like Fuller aka Drake, and eventually betrays him, although this can be excused as he thought he had no choice. He mistakenly thinks Fuller/Drake is a sycophant, cozying up to Donovan, the director of the village, and his capo Richardson, and an unfeeling swine when it concerns Janet Wells and her fiance, Bayliss, the man who died trying to escape Colony Three. However, the village is a big disappointment for him. His ideological arrogance is such that he thinks he can do what Bayliss couldn't, that is, successfully escape. When he finds a couple of English aristocrats who recently defected from the UK still living and acting as aristocrats, his pure socialist principles are absolutely compromised, and he has to escape. Janet knows and approves of his plan. "He speaks the language -- he stands a better chance," she tells Drake. Drake goes after Randall, catches up to him in a sandpit. They argue, they fight... and of course Danger Man wins any such fights. A helicopter patrol spots them, and both men are returned to the village. Randall denounces Fuller/Drake, Drake denounces Randall. "He's mad," says Fuller/Drake. Donovan, the Director, nods, says, "Certain English socialists are...." One is reminded of the paranoid hopeless of The Prisoner, the interrogations, the surveillance, the futile attempts at escape... Number 6 (McGoohan) being hunted and defeated by a meteorological balloon on a flat beach, measured by infinity as in a dream.
Virtually all of the Danger Man/Secret Agent dramas have no epilogue scene at the end, no summing up, no blanks filled. The action invariably ends on the climax, with Drake escaping towards home. Wrong Number by Ralph Smart would be a good example of mission accomplished, no explanation needed. A car, a boat, a plane... swimming with a beautiful woman, as in the atmospheric The English Lady Takes Boarders. Not so Colony Three. Successfully repatriated back to "Section 1", then to London, Drake confers with his boss M, asks if anything can be done for Janet Wells. "We've never even heard of her," says M. Indeed. "Once people enter Colony Three, they cease to exist."
Readers of British fiction from the 1960's will no doubt notice the similarities of Colony Three to some of the short stories by JG Ballard, as if Ballard and script writer Donald Jonson were drinking from the same well. Ballard's 1962 story The Watch Towers has an English village (or suburb) monitored by unseen watchers from concentration camp towers, yet the locals carry on oblivious to this fact as if it's just another day on Coronation Street. Surrealist stories such as Colony Three or The Watch Towers wherein spatiality is collapsed in favor of a global psychological landscape are an accurate bioptic of Cold War paranoia; you might live in England or America, but in your mind the Iron Curtain is just next door. "All countries are countries of the mind" --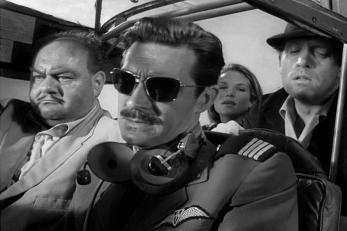 Jonson wrote several excellent Danger Man episodes, including The Outcast, which looks like a counter-espionage version of Tennessee Williams' The Night of the Iguana... and Judgement Day, which anticipated today's more sober view of Israel's automatic right to justice. Here Drake goes to Jordan to save a German biochemist who did some experimental virus work for the Nazis using Jewish detainees as lab subjects. Drake intends to fly Garriga (Paul Deghy) to safety in Oman, but the small plane is hijacked by a beautiful Israeli-American called Jessica (Alexandra Stewart) who is posing as an archaeologist. When the plane crash-lands at an abandoned airstrip in the Sinai, Jessica is joined by three armed members of an Israeli Holocaust justice group. Before they can execute Garriga (who is pretending to be an innocent Spanish scientist), Drake demands that he be given a fair trial, and in a rough, quick court facsimile staged in some desert ruins, acts as Garriga's defence counsel. In a fit of self-righteous arrogance, Garriga admits his crimes (all for the higher good) but not before Drake exposes the fascist hypocrisy of execution without a fair trial. Nice visuals, good characters, and definitely going against the tide of western public opinion in 1966. And once again, directed by Don Chaffey.
The Outcast uses the exoticism of Gibralter and the Costa del Sol as its setting. Although it deals with espionage, it's essentially a study of character. A nice looking Wren officer involved in intelligence work is murdered and Drake flies in to investigate. The suspect is a navy cipher clerk called Leo Perrins (Bernard Bresslaw) who flees to the Costa del Sol, possibly Marbella or Torremolinos, finds a temporary sanctuary in the kitchen of a bar run by an Englishwoman and her teenage daughter. Drake poses as a tourist, observes the sordid love triangle involving the alcoholic Nora, the Lolitaesque Helen, and the Spanish waiter Xavier, a Latin opportunist of the most obvious sort. Meanwhile Drake befriends Leo, saves him from a Russian assassin, gains his confidence and a confession. Leo was part of a triangle himself, it seems. He was in love with the Wren, knew she was passing classified secrets to her lover, the guy in the Triumph sports car. She laughed at him, he lost it, he shot her. How Drake manipulates Leo into this confession is both credible and in the end, touching, because even though Drake deceives his new "friend" out of professional necessity, you know that he regrets the fact.
Again, as with many of the Danger Man/Secret Agent episodes, there's a stage feel to the action, which, rather than being a distraction, allows characterization to develop in real-time without cheating by montage.