Total time: 84 minutes
Colour/B&W
Vanguard Films 2001
---
Keep Your Shorts On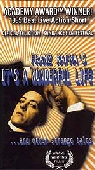 If you think it's tough finding great movies on the still-small-but-growing list of stuff on DVD, try finding that most elusive of movie forms, The Short Film. Seemingly relegated to erratic showings at film festivals and low-rez web sites, these mini-masterpieces, like their print brethren, the short story, can pack a powerful punch within a narrowly defined timeline.
Thus, this collection of four shorts, packaged by Vanguard Films, is a worthwhile find, if only for its rarity of content. As might be expected, these award-winning or festival favourite shorts can take on more ambitiously eccentric ideas than a feature film can, and often deal with their dramatic themes in quirky ways. One could do an entire piece on how distribution on the web offers hope for a resurgence in the production of short films, but that's something for another day. For now, let's flick on the old DVD player and see just what this collection has to offer.
Franz Kafka's It's A Wonderful Life (Scotland, 1993)
Written and Directed by Peter Capaldi
Produced by Ruth Kenley-Letts
Cast: Richard E. Grant, Phyllis Logan, Eileen McCallum
Running Time: 25 minutes Black & White
Jane Balfour Films
Produced by BBC Scotland, and winner of an Oscar in 1993 for Best Live Action Short, Franz Kafka's It's A Wonderful Life utilizes the established talents of film and TV star Richard E. Grant to sustain a 25 minute joke which culminates in the surreal blending of Franz Kafka's The Metamorphosis with the gooey sentimentality of Frank Capra's It's A Wonderful Life. This clever, closely written tale overflows with ironies, visual puns, dramatic turns and twists, and saves its unforeseen ending to the last possible minute. I quite like the saturated colour and edgy camera work of this production, and the cast is strong and natural. Grant is exceptionally good as the doubt-ridden, overwrought Kafka, and his final scene as the credits roll may put you off The Metamorphosis forever. All in all, a snappy little gem of post-modern filmmaking.
Seven Gates (Canada, 1997)

Written by Richard D'Alessio, Jeffrey Berman, Richard Waugh, David Huband
Directed by Richard D'Alessio Produced by Jeffrey Berman

Cast: Richard Waugh, David Huband
Running Time: 20 minutes Colour
A winter road in rural Ontario. A nervous man fidgets as his car dies, rolls to a stop along a snowy, deserted road. He gets out and starts walking. Another car appears, approaches, stops. The man gets in. It's his brother, and they're on their way to Christmas dinner on the farm with the folks. What ensues is a study of sibling rivalry and family dynamics, developed with increasing emotional intensity as brothers David and Daryl deal with their feelings of failure and frustration. The film's name, Seven Gates, refers to the number of gates blocking the road from the highway to the farmhouse. As symbols, the image of the gates deftly represents the layers of artifice and armour which cocoon our protagonists, layers which are exposed to the raw winter wind as they slowly work their way closer to home. Darkly humorous, wry in its docu-drama form, Seven Gates (The Seven Gates Of Hell?) is a thought-provoking look inside the confused emotions of two loser brothers in a sadly dysfunctional family.
The Deal

Written by Lewis Black
Directed by Don Scardino
Produced by Diane Krausz
Cast: Joe Grifasi, Larry Pine
Running Time: 19 minutes Colour
Third up is The Deal, a big-idea farce about big, badass businessmen. They meet to do a deal and start off using an almost cryptic bizspeak to lay the correct verbal foundations. Ironically, to understand each other. Their talk leads to action, and both are most pleased when they successfully choreograph themselves into chairs at precisely the same time. The crypto-talk continues and the deal is done when they both acknowledge that they can, indeed, run the world's most powerful company and yes, indeed they have The Balls to back up their words. However, our laughter at their absurd and ritualized conversation suddenly turns to incredulity, as their bantering about whose name will be first in the partnership escalates into a serious contest of who literally has The Balls, which are first described -- one set are giants from a 16-year-old Peruvian boy, the other set are the only ones in the world made of gold -- then shown, then finally fondled by our now-rapturous dealmakers.
Hugely satirical of the business community, The Deal remains deadpan to the end, and should be regarded as the flick most likely to generate whoops of laughter from an audience. Beneath the satire, of course, lies an indictment of the alpha male ego, and those symbolic icons which define the spectrum of money and power.
Mr. McAllister's Cigarette Holder

Written by Wade Steadman (based on a Mark Steadman story)
Directed by John D. Allen
Produced by Norman Todd
Cast: James Mayberry, Nora Heflin
Running Time: 19 minutes Black & White
This slow motion, past-tense story of pride and dignity harks back to a simpler age, when a man's life could be supported on a single idea, and there were men around simple enough to define themselves as one-dimensional. This kind of basic belief requires sacrifice to sustain itself, however, and Mr. McAllister's Cigarette Holder is the story of such a moment. What makes this movie interesting is the banality of it all, focussing as it does on the dignified antics of a Mr. McAllister, who, in 1961 is a 20 year veteran of southern road-cleaning crews. Although he is surrounded by common white trash (he is called Mr. McAllister derisively, as he addresses everyone else as "Mr."), he maintains himself separate from his less experienced road cleaners, and symbolizes his differences by obsessively brandishing a cigarette holder, something he had found on the road, had carefully cleaned, and kept. After beaning a co-cleaner with a rock after he had playfully grabbed away the cigarette holder, McAllister takes the rest of the day off and soon meets Dora, an albino woman sitting at a train stop. Intrigued by her uniqueness, he politely offers her a place at his shack, and next thing she's moved in. A decision to buy a gift backfires when they visit a store and see a basket filled with the exact cigarette holders McAllister believes is a rarity. Overcome by the denigration of his symbol, he and Dora head home. Halfway there, she announces she has bought him a present. Inside the bag are all the store's cigarette holders. She takes them out one by one, snaps them, and throws them away.
James Mayberry plays McAllister with a sensitive edge, and the cast is professionally good.
Down To The Short Strokes: This DVD Is Short-Changed
Four shorts. A fairly skimpy 84 minutes of action, and the only DVD feature is chaptering, which is hardly a factor in a 20 minute movie. I'm disappointed in the DVD's length -- surely there's a zillion shorts out there dying to be screened -- and the lack of any kind of the now de rigeur background goodies. No interviews, no director voiceovers, no festival screening lists, no trailers -- nada. This DVD is priced in there with the regular Hollywood fare, so I think we might have gotten a bit more bang for our buck.
The other amateur thing about this DVD is its crummy cover design. It's sold entirely on the strength of the Oscar-winning short, and calling it Franz Kafka's It's A Wonderful Life& And Other Strange Tales doesn't do much to tell the big story. However, bereft as it is of gloss, it still has four very good shorts to show. I'd give it 4 eyes for content, 2 eyes for form, and average it all to 3 eyes overall in ranking.
© Rick McGrath 2/02
AJO RATING: