The Swinging Cheerleaders (1974) Written and Directed by Jack Hill. Produced by John Prizer.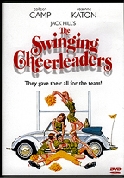 Jo Johnston stars as Kate, the underground cheerleader, with fellow peppers Cheryl (Rainbeaux) Smith as Andrea, Colleen Camp as Mary Ann, and Rosanna Katon as Lisa. Ron Hajek plays Buck, and Ric Carrott is Ross -- the sensitive football players. Ian Baxter plays Ron, the evil campus radical. The cheating adults include Jason Sommers as Professor Thorpe, Jack Denton as Coach Turner, and George Wallace as Mr Putnam.
Director of Photography: Alfred Taylor
Screenplay is credited to Jane Witherspoon and Betty Conkey (fictitious names)
Video Format: 1.66:1 Widescreen Audio Format: Dolby Digital 2.0 Length: 91 minutes Rating: R
---
An Underground Cheerleader For The Underground Press

Essentially a frosh/soph sex comedy, The Swinging Cheerleaders (1974) represents outsider director Jack Hill at the market top of his powers. After inventing his style in the 1960s with freaky first flick Spider Baby (1964) and Pit Stop (1967), Jack got his mojo working full time writing and directing The Big Doll House in 1970, The Big Bird Cage in 1971, Coffey in 1972, and Foxy Brown in 1973. The Man was on a roll, and with The Swinging Cheerleaders -- a sexy, yet strangely dark university days comedy/drama -- Jack rolled a lot of coin into his pocket. His next flick, Switchblade Sisters, released in 1975, bombed... and the run was over. By the end of the 70s Jack had retired to a life of yogic contemplation.
While Hill himself calls The Swinging Cheerleaders "a Disney sex comedy," I doubt if Disney could have pulled it off. On the cynical side, it's a skillfully blended montage of target-group-driven scenes. Jack himself calls it a "tissue of cliches". We see a lot of firm flesh from young, nubile actresses. We see college football games (intercut with real footage -- one of Jack's big moneysaving moves -- it's just that he edits it in so well). There's a token college "radical" who does grass and cocaine and turns out to be the story's misogynist. Adults are dopes and worse: the football coach, the president of the alumni association, and a black prof (who's screwing one of the cheerleaders in his office after class) are involved in fixing the football games and betting on the spread. We come to realize members of the football team are sensitive boys after all, and we all receive our demographic thumbs-up at the climax, when the cheerleaders and players -- in full uniform -- attack and overcome some evil campus cops who have kidnapped and likkered up the star quarterback so they'll lose the last game.

And once again there's the familiar Jack Hill "timezone" effect. Hey, it's 1975. There's very, very few images in this movie that would help you guess that year. Even the student's dorms are decorated in mostly 60s posters...some Fillmore and Hendrix, but no Charlie's Angels, Stones, Led Zeppelin... nada... the radical has a 10-year-old Dylan poster of Blonde On Blonde on his wall, but that's ironic, because he has a passing resemblance to Bobby. What kind of students are these? No disco. No funk. Cars are few and immaterial... there's no TV playing in the background, no current hit music on the soundtrack... these Swinging Cheerleaders live and make out in a completely foreign space.

Granted, the budget-driven production values mean there are lots of location shots, but it's the basic plot that needs no temporal support. The campus radical never once mentions Viet Nam. He doesn't have to: all the roles are simply components of Hill's fascination with role and sex reversals within the framework of a drive-in movie aimed at an over-18 teen audience. He loves to film the strong, self-assured, street-smart female, and once again the female lead -- Jo Johnston -- figures out the scam and alerts the boys. That is, when she's not screwing the quarterback.
Not As Nutty As Switchblade Sisters
Jack seems to be watching the action from the dark depths under the grandstand, though. The Swinging Cheerleaders is filled with outdoor footage of sunlight and bright uniforms, but the storyline is dark with crime, mistrust, secrecy, betrayal, and the usual lineup of hormonal button-pushers. Again, it's that Hill "edge" that saves this movie from being another trash cheerleader flick. The Swinging Cheerleaders, like all his films, shows his real interest in his characters, his smart, back-and-forth dialogue, his penchant for strong, gorgeous women, and his always fast-moving, generally intricate storylines. And, of course, none of these things ever gets in the way of the sex, nudity, violence, campy lunacy, and all the other stuff you come to expect from Hill. This film isn't as over-the-top as Switchblade Sisters, but it shares a lot of the same attitudes and philosophies.
Disney? This is anti-Disney. It's success in 1975 is no doubt predicated by it's surface simplicity and popular storyline; today it's appreciated not for its sexy scenes, but for its (cheap) technical wizardry and its tight, anti-authoritarian stance. Hill is fascinated with individualism, and this movie addresses the often-underrated problems youth have with their first major, life-affecting choices. Lose my virginity? Stop being a radical? Overthrow the coach? Marry someone I don't love? The fearsome symmetry Hill achieves must have been like listening to an oracle.
Like most of Jack's "Strong Women" movies, The Swinging Cheerleaders is now being hyped as "one of the '70s most subversive and surprising drive-in favorites." Subversive? Hardly. The radical is a jerk; all the men all get laid. The subversive part is the movie's conservative message. I wouldn't show this flick to a feminist on a bet. The independent woman angle starts off strong, then fades fast once Kate starts comparing hunky jock beefcake to pasty journalist porridge. Surprising? Even more hardly. Teenagers are the movie's heroes. And they are portrayed in a realistic, friendly manner. If I was a freshman in Texas in 1974, I'd be watching this and feeling good.
DVD Goodies
The DVD comes complete with an audio commentary track by Jack Hill and Johnny Legend, and while it's not quite as interesting as say, the commentary to Pit Stop, it's a casual reflection on how the movie was shot and what Hill was trying to accomplish with his camera angles and stars. You also receive a 30- and 60-second TV commercials, and a bio on Hill, and his fascinating life.
Rah Rah Sis Boom Bah
Bottom line, if you're into Jack Hill, you'll no doubt add this to your collection. The print is an excellent transfer, with only some of the outdoor location footage fading slightly, and the technical crew, including cinematographer Alfred Taylor (who also shot Spider Baby) does work above and beyond the film's budget. The sound is very good, even if it could be the weakest part of the movie. Jack, as you may know, started off as a musician (he plays on the soundtrack of Dr Zhivago), and gigged around playing Hungarian gypsy music before he got into directing. The sex scenes tend to have that gyppa-sippy soundtrack, and the climactic fight features ragtime chops -- the weakest point in the flick, and the main reason I don't give this four eyes.

The Swinging Cheerleaders reveals Jack at the top of his clever sexploitative form, giving us a solid story with characters both well developed and very well developed. A just-starting-her-pregnancy-so-her-boobs-are-ginourmous Rainbeaux Smith is a sight to see when she drops her bra. And the supercute Rosanne Katon later became a Playboy Playmate. But it's not really all about breasts. That's for the boys. This film was also very popular with young women, who no doubt went for its wacky blend of fairly realistic college adventures, including (oh no) the first streaker ever on film, some tasteful erotica, slapstick violence, party comedy and some melodrama. Lightweight entertainment with a dark edge is probably the ultimate descriptor here, proving that even for Jack, you don't have to be an intellectual heavy all the time.



© Rick "Ojo" McGrath 11/2000