descending, 30 frames/sec
March 14th, Manchester, England. I'm coming into land, what do I know about this place? Can see the canal, almost as long as the Panama, Lonely Planet says it was built in the 1890s for moving in cotton from India and moving out coal and other stuff. Big time soccer team, Man U., not so big these days. Oasis, they're from here, I think. Bee Gees. The guy who sings for The Stone Roses. This place must rock. I'm only here for the night, though -- Toto, live and dangerous at the Apollo.
Usually Stephen Duros runs the lights for Toto but for this gig he's a B-roll shooter, running a Sony digicam backstage, on-stage and all around, grabbing verite footage for their in-progress DVD.
No cables.
"Martin Cole is their Manager and he runs the tour," says Stephen. "A great guy, the one who hired me years ago in L.A. to do lighting for them when I was 23. But on this tour Andy Doig is doing the lighting as he usually does Europe with them. He's a big name in the lighting world. That's cool. I'm excited about my new role, shooting this vid."
The boys have already played Dubai (United Arab Emirates), jetted into Bristol (Colston Hall), ponied up to Newcastle (City Hall) on the U.K. leg. "Yeah, I missed the chance to talk to Sting," says Stephen. "Understand he's from Newcastle... who knows? Maybe he was there... seriously, though, the Manchester concert was hot and you can check out some pix here. You can see me lining up on Simon (Simon Phillips, the Toto drummer) in this Eddy Meuwese shot...hey, how cool is this? The videographer as conductor!"
a flamenco in disguise
March 20. I'm in Amsterdam, Sin City, but we leave for the airport in an hour to fly to Munich. Concert will be at the Olympiahalle. Everything is going well. Been taking lots of great footage and doing some editing. Have my own room where the portable video is set up so I can log and capture video, edit, etc. It's great -- Final Cut Pro great.
When he's not running lights or shooting digi, Stephen is a flamenco guitarist with a couple of CDs and a regular gig in the Ottmar Liebert band Luna Negra. "A fan of mine named Boris came to visit and meet me in Munich and the venue where I was working. Much appreciated. Didn't seem surprised that a flamenco would show up disguised as a cameraman!"
europe is a nice bus
Traveling with the band... what can I say? That's great too, lots of good meals, stories and 5 star hotels. I'm getting a hell of a workout running around with the camera on stage. This is something I've always wanted to do, I'm really happy to get this opportunity. I did some editing of one of the band interviews and it looks like they may want me to edit more of them and edit the B-roll footage for the Dvd when I get back.
So what does a B-roll shooter do when he's riding a luxury bus into the pre-Spring Alps? Film homework for one... sort of. "Simon and I sat down together and watched the behind the scenes footage to the new 007 Casino Royal movie," says Stephen. "Another time on the 10 hour drive from Innsbruck, Austria to Metz, France, Luke, Greg, Simon, Tony and I sat upstairs in the back lounge and watched the old classic "Total Recall" and had lots of laughs. Think about it: we're in Austria, a California band, watching Arnie who's from Austria and is now Governor of... yeah, lots of laughs."
"But I was working too, you know... got some nice sequences of the guys hanging out, some really funny stuff. Will it make the final cut? Guess we'll see, ha ha."
Thursday. Innsbruck Olympiahalle Austria... those highways into the Alps, could be cruising from Seattle through the Cascades, looks the same. Tour bus is great, two decks, just like a 747. I'm popping pictures, will post them at my Flickr site. It's going so fast... Rosanna, Rosanna... hotels, gigs, arenas... yep, I'm reaching the flicker fusion threshold... 30 frames per second progressive, baby... Rosanna, Rosanna... think I'm going down Africa way, not seque-ing into 24 Saturday Metz Galaxie France... 26 Monday Paris Zenith France ...Rosanna, Rosanna.
Toto Blog
Monday, Mar 5, 2007: Despite the fact that Mike Porcaro will be absent due to an injury, the DVD will be filmed as planned, with the noted session bassist Lee Sklar appearing in place of Mike.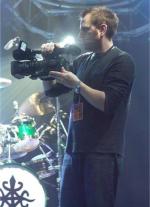 "I shot with the audio on and for the interviews... Simon would use mics all around for 5.1 surround.
"For the B-roll stuff I'll use the audio captured from the camera its self. I took shots of them playing live and if I want to use any of that footage in the B-roll, I can get an audio mix of the band as they had a Pro Tools rig out by the sound engineer, recording every show."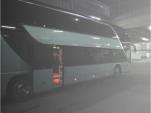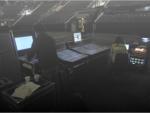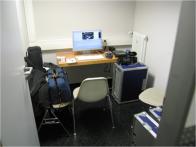 the gear
"In two road cases I used an Apple G5 using Final Cut Pro HD with a Cinima display and extra hard drives. Two cameras. A Sony HD Z1 cam and a Sony HD Handy Cam and a few tripods."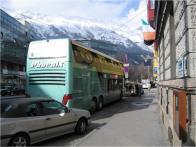 "In Innsbruck, we received a glasses cam, it was rather funny. But you would wear these glasses and they had a tiny camera mounted in the middle. It was so small you could hardly see it. Simon tried that while playing the kit and it worked out for some interesting shots but not too much was usable. Every one was laughing because the glasses looked so nerdy."