the new bohemian
Maxim for the post-modern author: when you write fiction, write non-fiction; when you write non-fiction, write fiction. Jason Webster's well-written and fascinating first book appears to be a journal of his experiences mastering flamenco guitar and his obsessive search for "duende" -- the zeit-geist or spirit -- that drives the art & culture of flamenco... yet the shape and form of the narrative is pure fiction.
Like Borges or Ozzy, he is the central character in his own drama. He leaves the post-graduate possibilities of Oxford on a whim, flies to the Costa Brava, lands in Alicante, gets a job teaching English at a small ESL school run by an Anglophiliac crypto-fascist called Vicente and his sensual long nosed flamenca wife Lola... a dancer with nice hips in a red dress who is the very personification of duende. Following some guitar lessons from a guy called Juan who dresses in red and lives surrounded by red as if he's a Lorca symbolism or nostalgia, JW gains access to the local flamenco cell... begins playing accompaniment to Lola... or La Morita, as he fondly calls her [after finding out her grandmother was a Moor]. A clandestine affair follows, naturally.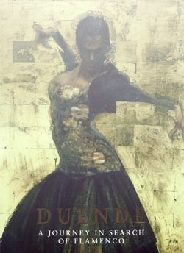 It might be real, it might be fiction. "The with-holding of information" -- an ancient writing technique of fictioneers -- is used at key moments. Certainly her husband Vicente is mostly fiction, as his homicidal passion for hunting and killing is revealed late, like drawing rabbit from a hat. Of course his fascist nature conforms to a Conquistadorian type in Spain, a personality you can encounter quite quickly in any bodega where women fear to tread [check Carlos Suara's brilliant 1965 film La Caza about a rabbit-hunt gone wrong in an old Spanish Civil War battlefield]. By this point, though, JW's British bad boy sense of humour is revealing itself. This humour reaches its true valency when he is forced to wipe his ass with a Gypsy Kings' flyer... or when he encounters the maestro guitarist Paco de Lucia having a piss in the bushes before going on-stage.
Smoking, drinking, snorting, copulating... it seems a gypsy flamenco ain't much different from a rock n roller. Or an author. Duende, it seems, is the art of feeling good by way of feeling bad.
JW has the advantage of mastering Spanish very quickly, as languages are his thing. Needless to say this is essential for gaining access to the local society, never mind the gypsy sub-culture that sits behind the whole notion of flamenco. Seems he's a fast-read on the guitar too, because he goes from scratch to playing in a gypsy ensemble in Madrid in two years. His descriptions of his flamenco-immersion and learning are authentic... and along the way this dramatized essay reveals a great deal of information about the structure, convention and culture of flamenco. He has the advantage of being an Arabist and linguist, so his feel for the Indo-Arabic origin of flamenco is excellent... and his translation of the Spanish and Gypsy syntax as it relates to lyric (song), dance (rhythm), guitar (method). The whole palos is laid out, amigos... the compas [buleria, solea, rumba, tango, etc]... and duende, whatever it is... a lifestyle, a possession, a mystical rapport with pre-social being.
The idealism of the Mediterranean coastal days is reversed when he flees to Madrid [to escape the shotgun wrath of Lola's husband], ends up living in squalor in his desperate desire to infiltrate a true gypsy ensemble. He meets a singer called Carlos, a sweating vocalist of the preferred primitive style [la voz afilla] who lives in a high-rise flat with his donkey and ducks -- a signal not of his failure to embrace civilization but rather of his fondness for tradition. Carlos is the boss hombre of this menagerie which includes a crippled guitarist, and a plump dancer known as La Anadonda [the Knife-Woman] [following her revenge on her cheating ex].
But JW's true gypsy education comes from the coke addict car thief Jesus, who initiates him into both vices, and for which duende and death are synonymous. "I shit on the face of God!" screams Jesus as he floors his stolen sedan through the dawn streets of Madrid, an insane apostate like Belmondo shooting the sun from his stolen auto in the movie Breathless. Cocaine: the gravedigger of doubt, guilt and conscience. It's a dark, revolutionary period for our adept, and although it almost costs him his life, he does get to gig with the ensemble in the seedy bars and halls that provide a venue for these bottom-feeders in the flamenco scene. Somewhere in here he recognizes that his acceptance is merely conditional, because a blond Anglo is a novelty to draw the tourists. Oh well... least he gets a real flamenca negra guitar and a few more chops out of it all.
No women in this period, tho'. He's still in love with Lola... or he's in love with the ideal. Therefore he heads for Granada next, the ancient home of flamenco and its most famous modern expressionist, the murdered poet Frederico Garcia Lorca. It's here that he finds a job playing rhythm in a flamenco dance school [when the regular guitarist is thrown down the stairs by a martial arts girlfriend] and meets Grace, an English nomad in her seventies who becomes his confidant and drinking companion. Her actual act remains murky, to both JW and the reader. She might be a dope dealer or a geriatric hooker or... who knows? Bohemian mother-figure, sure... but as a character and a narrative detail, she definitely stretches JW's ability to sustain the fiction within the journalism.
No worries. American Psycho meets Tom Cruise in an elevator... and Jason Webster encounters Paco de Lucia in the bushes. Why not? I once bought bluesman John Lee Hooker a scotch... and took Nobel Laureate William Golding to lunch where he nearly ate a bug.
But the characters in this book are really very good, and act as a beautiful counter-point to the discussion of flamenco. The singers, the dancers, the players... the traditionalists, with their xenophobic contempt for nuevo flamenco... players like Vicente Amigo whom Lola dismisses as "jazz" in a curious yet fitting moment of snobbery that mirrors her husband's ["El Killer"] contempt for flamenco and traditional Spain. The husband's name is, woa, Vicente.
the guitar is playing you
Does JW ever find duende, or even define it? As he says himself, the word is hard to translate. My dictionary says "ghost or goblin", words which obviously just don't do it. "Ghost" would be okay in a certain context but even that doesn't fully capture the mysticism. You could talk about soul or zeit-geist or mojo or whatever but the word remains elusive, can only exist within its own cosmic tablature.
Seems odd today, but at one time the guitar was really just background within flamenco. The player was really an accompanist to the singer and or/dancer. Yet this relationship perhaps explains the obsession, and its concomitant, duende. The condition is dualistic. Think evocation and possession: who is playing who?
It's a strange thing "to go native", even if it's all stealth technology. Once knew a Englishman who taught Russian... had a blond Russian wife, who left him for an American who taught English from the Freudian perspective. He'd say, "Don't know why I married her, stupid really... it was like having my own dictionary in bed with me, y'know?" She moved on from the Freudian too and who knows where she went. The Queen of Spades. I am reminded of this when I read of JW and Lola... and JW and Salud, the flamenca he is now living with in Valencia according to the bio on the dust jacket.
'fess up, Jason -- you played a little rock n roll before you ever went to Spain.
©LR 12/03
---