§§ In the 1985 Miami Vice episode "Junk Love" Miles Davis plays the aging pimp Ivory Keys. There is deliberate irony in this casting, for, as Davis says in his autobiography, "I started to get money from whores to feed and support my habit. I started to pimp them, even before I realized this was what I was doing." (p.136)
This was his New York 1950 "Birth of the Cool" period, when he became a serious junkie, master of the melancholy modernist blues. Hip? His modality was so hip he was a Dorian blur in the shadows of Harlem and 52nd Street, the jazz clubs, the flop hotels, grooving the dreamers and the schemers. The Vice episode isn't exactly great drama, although -- like the whole series -- it simplifies the idea of cool to a visual fantasy. Dialogue is minimal, epigrammatic at best, just something to pace the music. Essentially MD's part is two or three scenes more than a walk-in... a few growling lines in a sultanic costume. The baggy pants and the satin shawl jacket are a long way from the slim zoot suits of his New York bop days -- well, the jumped shoulders remain, but here they sag as the hipster becomes androgynous in the rock n roll gestalt. "Stay loose" is now more than a figure of speech. The hipster shape-shifts to camouflage. He is Sky Man.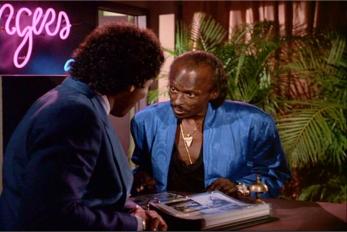 Ivory Keys dies off-stage, his Nigerian necklace a death trophy for Mr. Big, a dwarfed Latino hood called Silva, who is a killer drug dealer with a bad case of Oedipus Rex. But in real life, Davis ended up in Malibu, a hermit painter in an enclave of Hollywood stars, and his drug was no longer smack or coke, but the less than glamorous AZT. Whether his early hipster pimp career took him down or he wrecked his lungs blowing horn (pneumonia & a failed respiratory system took out a few of his fellow jazz horse traders, including Bird and Hawk), time caught up to him. He was 65 -- a decent age for his generation -- and had accomplished more than most, considering the ladder he had to climb. The black hipster's story isn't always a success story but his is. More than anyone, he took jazz from cultural novelization into the core of modern art.
Miles Davis' verbal expression is deeply ethnic, a black underclass jive speak full of scorn and self-congratulation, fatalism and wounded pride. Just read his 1989 autobiography (brilliantly ciphered by Quincy Troupe), see if you can survive. He tries to be fair, and he is mostly fair, although the wound of the ghost slave runs deep. His flowing obscenities and double-negatives obey a counter-rhythm and a counter-logic that uses insult as praise. Nigger and motherfucker predominate. It's blues talk, a defiant parallel language born outside of church and state, a black hipster's cynical blunt-force humour. Obscenity as chant therapy is by no means just a black American thing -- manual workers the world over massage their physical pain with rhythmic swearing, and anyone who has used a hammer knows it. This sado-masochism is convulsive, like the squeal and moan of heavy machinery doing its grind. Rage is the first note in the jazzer's scale of being. He blows or he dies.
So for a musician like MD, this way of talking is an exhalation, just like playing his horn. It's a shitting through the mouth, a modulation of a bodily function. Interestingly, Miles Davis cites his main musical influences as Dizzy Gillespie, Charlie Parker (Bird), Theolonius Monk and -- believe it or not -- Orson Welles.
Welles? For voicing, as MD saw the trumpet (or the sax, trombone, bassoon, whatever) as a modulation of the human voice. Tone, phrasing, pitch, intonation -- all these things could be learned from a master of the spoken word. And in the Radio Age Orson Welles was a master of the spoken word. He was Othello, he was Citizen Kane, he was The Shadow, he was the "bad motherfucker" who duped millions of Americans into thinking they'd been invaded by the Martians. He had tone, he had measure, he had the power to persuade, unlock the dreams of the sleeping listener. You can imagine MD driving between the great cities of the eastern seaboard in the Blue Demon -- his 1948 Dodge -- listening to Welles and the Mercury Players sandwiched between jazz casts and another fix before the gig. Or driving through Harlem or along 52nd Street or checking out Greenwich Village, slow cruisin' and schmoozin'. The traffic babble of the city, half-human, half-machine in the concrete jungle is the modal shell of consciousness. As MD says, and says often, he was a middle-register man, floated above the rumble, soared below the scream.
His trumpet speaks another language, one of melancholy, grace and beauty. There is no obscenity in the scale, no politics. He reaches into space, becomes free, so when he returns to life, it's a disappointment. Hangovers and manic-depression mark the boundaries, define the territory. He inhabits a night world, a spirit world. You don't dance to Miles Davis. You leave your body at the door and hope that it's there when you return. Despite his frequent barbs about dead white European music, the genre of bebop improvisation is jazz classical... and so is the MD post-modern "cool" style. It's all head, extra-sensory and personal. You lock minds, not bodies. It's theatre without the audience.
And so it came to pass that The Birth of the Cool (recorded 1949-50, released 1955) became the hipster's score to survival. The machine cities of America had been running hot for the war and bebop was war. It was fast, as nobody had time to be slow. Bebop was a blizzard of notes, like a creeping barrage of massed artillery, but now it was shutting down, would soon be an echo. MD didn't like the high-register -- it might be o.k. for Dizzy and Bird, but it wasn't for him. He was going to cool things down. It would be heroin, pussy and space.
So MD was the classic "bad motherfucker" voodoo male, where "bad" is either hip code for "good" or just plain chauvinist nasty, depending on your point-of-view. Anyone who reads his autobio will know that he was not at heart a mean person, although he could be mean, was mean, as survival in the racist streets of America required the evil-eye look, the "don't mess with St. Louis" look. Yes, he idolized Sugar Ray, took boxing lessons, did some karate dance, but it was an off-stage pose. Or it was heroin therapy, dressed cold turkey. His cool cat of the street persona was at odds with his notion of self, as he was bourgeois when it suited him. His old man was a St. Louis dentist, had dough, and Miles was -- for the times -- privileged. The gutter or the madhouse might claim others like Bud Powell or Monk, but MD could always go home to the farm.
His machismo was a vulgar attitude rather than a physical fact. He was of average height, skinny-assed, with a bad hip and elegant hands that couldn't be damaged or else. The only fight ring he performed in was a bitch's bed, although he did visit the gym. His power was all voodoo, spells and magic sounds. In 1969 when he was sitting in his parked Ferrari in Brooklyn with a girl and someone pulled up and fired a few rounds through door, he didn't go on a revenge quest, and if you believe him, he says he had no idea who was after him, although he was told it was some black promoters who didn't like the fact they weren't getting any of his action. "Sometimes life is a bitch," he said, let it go at that.