§ There's a lot of echo on some of these -- blame it on Elvis and the Memphis slap back sound. Or blame it on the psychedelic era; we wanted to get away from the dead sound of reality, find another dimension. We were after the experimental, the migration into electronic sound-text narrative, where noise is just as important as language.
Scales Crosstalk [mp3] is raw, just the way I found it the other day on the old master tape. Perhaps I mixed in the background babble towards the end. Perhaps, but it's so long ago... 43 years ago to be exact. So most likely it's leakage or cross-talk from a recording that was on the tape before it was erased and recycled. Tape was expensive back then. So were reel-to-reel recorders... one or two months' salary, even if you were a university instructor.
I was using an Akai GX 280D which had stereo echo, unlike the ReVox A77 which had mono echo, so the Akai was an advance in terms of spacial imaging.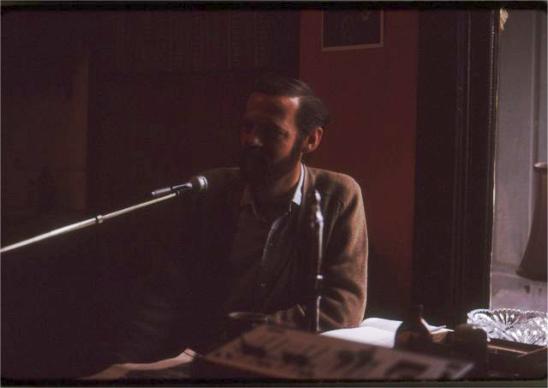 Anyway, no one's ever heard this one, or any of the others, far as I know. A couple seem to be variants of pieces used on Kinloss Abbey. I'd just let the machine run, and Sandy would read, sing or improvise. Some of the text might be his or "found", stuff cannibalized from any old book that was lying around. Could be Lord Byron's Journal or the Eaton's Catalogue... or just stuff channeled from memory. I might play some guitar or just mess with the tape recorder, stick a pencil between the heads, jive the pitch or the delay. So cross-talk leakage or RF interference was par for the course. The "lucky accident" was always welcome.
First met Sandy (Alexander Hutchison) in September 1968 at Robin Skelton's, the UK poet who liked to have soirees for the local Victoria artists and faculty from UVic. After that Sandy took off for Chicago to do a couple of years on his Ph.d. His thesis was on the American poet Theodore Roethke, an extraterrestial before his time, whose words slithered from the Id. There might be an influence, although masked, as Sandy was deep into the historical romance of Old Hibernia, the Western Isles and the ancient kingdoms that flummoxed the Romans, Dr. Johnson and any other alien who cruised past. He's more like Ossian, the wandering bard who functioned within the oral tradition and the prophetic inspirations of the Second Sight. The Celtic tradition is towards mysticism rather than secular confession; words are a vibration rather than a labelling, or a political means to legal bullying.
But modern poetry, whether it's Roethke or Alexander Hutchison, tends to be pantheistic. The living are always shedding the dead or the dead are shedding the living.
(The) First Creatures probably has a bit of Roethke in it. There's a version on his DNA compilation Kinloss Abbey (73), although I believe the montage is different here.
He had an alter-ego (or avatar as they would call it today) called Mr. Scales. His first poem was "Mr. Scales Walks His Dog", which was a funny catalogue narrative about the amazing Scales and his torpedo mutt. There was something primitive about Scales, and although he didn't have a tail, there was something prehensile about him.
There are many stories I could tell about Sandy... different places, different times... South Island, North Island... Edinburgh, Glasgow... space, inner and outer. We had some good times. Crazy talk was just a means to conceptual art.
First Moon... well, we all talk to the Moon, don't we? This is an echo loop extravaganza. You can blame me, but I know for a fact Alexander was exploring the canyons of Jupiter.
I had a '67 Mustang, forest green like the one Steve McQueen drives in Bullitt and Sandy got me to tow his Sunbeam Rapier 2-door hardtop, which had broken down up Island. Think it was a Raymond Loewy design, Mr. Art Deco. Based on Loewy's spacey Studebakers. Nice car but... sensitive. Anyway, it was some drive towing it back to Victoria. We used a rope, not a rigid steel towbar as per the law around here today. About fifty miles, and there were showers... downpours and crazy traffic. I could see Sandy in my rear-view mirror hunched forward behind the wheel, trying to see when I was braking or making a turn, so he could follow nice and tight, not smash into me. The Mustang had a 289 V-8 and great growl when running hot. And we were running hot to climb the Malahat, get up that long 3 mile hill... we stopped at the Lookout (Split Rock) where you can see all over the Gulf Islands, Mount Baker, and the Olympics across the Georgia Strait. The windshield of his car was a mess. The wipers had quit. I said to him, "Am I driving too fast? Can you see o.k.?" I could tell he was rattled, but he just snorted and laughed, said, "I've been flying blind since I left Aberdeen ten years ago."
We had drinks before we left and we certainly had drinks after we delivered the Sunbeam to the mechanic in Victoria. There must've been some howling into the mic that evening and hammering on the old Les Paul. I simply don't recall recording Green Timber. The box says 1973, and it's at the tail end of the reel. Improvised, one time through... then forgotten. There's a beautiful lyricism about it, despite the so so recording. "A star stretched sky" indeed.
If you think the Scots can't sing, or need an accompanist, listen to the ballad Cruel Mother. This one got set aside in favour of Sandy's blistering rendition of the Bonnie Earl of Moray... so it's another forgotten gem. It's a ballad from the street or court minstrel tradition... or the wandering poet, the mythical bard of the pre-written text times.
Sandy was like that, true to himself and never a follower of fashion. He was born a wandering poet, died a wandering poet. Sic itur ad astra!
Lawrence Russell, November 29, 2015
*photos by Diana Russell
«« back to CC Audio