Before Night Falls (2000) dir. Julian Schnabel writ. Schnabel, Cunningham O'Keefe & Lazaro Gomez Carriles (from the memoir by Reinaldo Arenas, pub. Viking, NY 1993) cine. Xavier Perez Grobet & Guillermo Rosas edt. Michael Berenbaum music. Carter Burwell (addt. by Lou Reed and Laurie Anderson) design. Salvador Parra
star. Javier Barden (Reinaldo Arenas), Andrea Di Stefano (Pepe), Johnny Depp (Lieu. Victor/ Bon Bon), Oliver Martinez (Lazaro), Olatz Lopez Garmendia (Reinaldo's mother), Vito Maria Schnabel (teenage Reinaldo), Manuel Gonzalez (Lezama Lima), Michael Wincott (Zorilla), Rene Pereira (Antonio), Sean Penn (ox-cart driver), Francisco Gatorno (Jorge Comache), John Ortiz, Ofelia Medina, Patricia Reyes Spindola, et. al.
Before Night Falls a memoir by Reinaldo Arenas, published by Viking, N.Y. 1993
---
soon it's going to rain and my roses will drown
Reinaldo Arenas was a Cuban writer who came to the USA in the Mariel exodus as a homosexual undesirable and after 10 years of modest celebration of his talent, died of AIDS in New York in 1990. Born a peasant, he succumbed as a cosmopolitan. His sexuality was viewed as counter-revolutionary by the Castro government, and indeed he came to view it as such himself. As a writer, he was a natural, both in style and vision -- oral and fluid, poetic and extrasensory. You might say he never had time to be pretentious, that he was always on the run, whether to join the Castro rebels in 1959 or to escape Cuba and the Castro regime in various attempts throughout the seventies. He started out with a knife etching his lines into trees, then moved to a pencil, a typewriter, and finally to oral dictation... a parabolic cycle as natural as evolution. His last work was his autobiography, Before Night Falls, dictated to his friends Lazaro Gomez and Antonio Valle (via cassette) and published posthumously in 1993... and now the subject of an excellent and sympathetic film by Julian Schnabel.
The film opens with a hand-held tracking shot through a light forest in rural Cuba, the point-of-view of a child in his mother's arms... establishing the recurrent Arenas obsession with trees and water. The first words are those of the writer recollecting his childhood: "Trees have the secret of life... which is only revealed to those with the courage to climb them." As a boy he would write on trees like a prehistoric muralist, as a youth ascend and sit in them to listen to his radio, as a adult climb them to escape from the the military police. In fact, the opening sequences are a catalogue of visual metaphors, as you're advancing through a gallery of significant moments. Reinaldo as boy, naked in a hole in the dirt yard of the family farm... Reinaldo beside the river receiving two coins from his mysterious, absentee father as his mother hurls rocks and insults from the other bank... Reinaldo carving his words into the bark of a tree: "Soon it's going to rain and my roses will drown."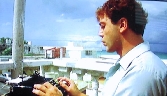 Because Schnabel's film covers a lifetime, the narrative moves rapidly into adulthood as a series of pivotal incidents. RA's grandfather -- who immediately associates poetry with homosexuality -- chopping down his writing tree... his first experience with a woman, a negro whore in Holguin bordello... joining the Castro rebels (more an escapade than a military reality)... etc. The action really settles down with his migration to Havana in 1964. He wins his first literary prize, is given a job in the National Library. But this seems peripheral to his meeting with Pepe, the bi-sexual playboy who initiates him into the local gay beach and club culture.
The exiled Cuban novelist Guillermo Cabrera Infante said that Arenas' work was completely concerned with sex. No kidding. In his memoir, Arenas's obsession with sex is both frank and prefiguring, the only form of pleasure available in the poverty of the repressive Castro regime. While many will agree that sex is the engine of art, much of this can be a turn-off, despite the pagan humor of Arenas' gentle promiscuity. Whether it's anal intercourse with his cousin Orlando at the age of seven, fellatio with a dog, or buggery on horseback by his Uncle Rigoberto, it can be a bit much if you view sex as a matter of lapsed dignity salvaged by love and solitude. Yet despite the "gay machismo" of his actions, there's no evidence of psychological illness, or lack of human charity. In fact, RA's character seems to have had plenty of charity as a "passive" homosexual. Schnabel's film avoids gratuitous voyeurism, deals with the sex by ellipsis -- the familiar cutaway in the clinch -- or by making sex the adjacent action of the moment.
When Pepe takes Reinaldo to a crumbling villa to obtain a typewriter (a rare possession for the average Cuban), the game begins as Pepe suddenly throws Reinaldo to the floor:
Pepe: (panting) Who's the man?
Reinaldo: (feigning surprise) Who's tha man? Must be you, you're the expert.
He pulls Pepe down into a kiss....
Pepe: You like to kiss on the mouth?
Reinaldo: Only when I'm in love.
Cut To: Pepe and Reinaldo inspecting a room. As the landlady hands Reinaldo the key, she says, "Thirty pesos a month... and no visitors... and no music after ten."
A woman slaps, a man punches... or so it seems when the indiscretion is between two men. "The gay world is not monogamous," says Arenas in his memoir. Pepe soon introduces Reinaldo to Antonio, a young Havana tour guide. Then he meets Lazaro, who emerges from the sea like Fate. They sun bath on a rocky shore. Reinaldo suggests they go back to his apartment to listen to some French records, Edith Piaf, others. He takes Lazaro's hand... but Lazaro shakes it off, punches him... then dives into the water. It's a rocky start to what would prove to be one of Reinaldo's most enduring relationships. Lazaro will be with him in 1990 when the author choses suicide in the final stages of his illness, although the way film-maker Schnabel dramatizes it, you might consider it euthanasia.
there was also a sexual revolution... as the drums of militarism were trying to beat down the rhythm of poetry and life
If you believe what Arenas wrote, communist Cuba in the sixties and seventies was in a parallel state of sexual revolution to the USA. Yet there's something fantastic about it, way beyond the heterosexual politics of Cuban women and their foreign lovers as described in, say, Pico Iyer's authentic novel, Cuba And The Night. Even Castro's soldiers were little more than rough trade according to RA. The incident at Pepe's picnic shows him as no mere victim, when he recognizes the sexual hunger of the sadistic officer immediately. You wonder if Arenas viewed all living objects as sexual targets. It was, of course, one way to level the agents of Castro's totalitarianism, i.e. Lieutenant Victor.

In the film, Victor is one sinister hombre, perhaps all the more so because actor Johnny Depp plays both Victor and the transvestite Bon Bon who services the prisoners in El Moro prison. Because there is "no separation between life and art" in the montage narrative of the film, you just might think Bon Bon is an undercover identity for the zealous Victor, a metaphor for his ideological absurdity... but of course no such connection is intended. Depp's performances are excellent (as usual), and no cause for confusion. Yet much of the action is a blend of unnamed or casually identified characters... so that you can, on occasion, be confused.
I had this supernatural quality of nonchalance, even though I was accused of being a murderer and a rapist
RA is arrested and sent to one of Castro's infamous homosexual prisons. Here Schnabel's narrative becomes dreamlike, quite like Arenas' symbo-poetic style, his experience as a neo-primitivist painter in evidence. RA's escape is particularly interesting as he slips through the moldering pastels of the dim corridors and emerges outside in the twilight, dives off a narrow pier into the sea... swims into the descending night. All is like a painting. Now he becomes a hunted man, "a pervert molester", a fugitive from the regime -- a marked contrast from the festive days as a celebrated young writer and sexual agent provocateur.
He hides in Lenin Park in Havana, sends pleas to UNESCO, lives in trees. As he says in an 1983 interview for French television (included with the DVD release) about these years, "I became a character out of Orwell... a non-person." Omitted from the film is his long trek to Guantanamo, where he hopes to swim the river, find sanctuary in the U.S. base. Throughout he's aided by casual lovers, and friends outside of Cuba.
Eventually he is recaptured, committed to the gothic dungeons of Havana's El Moro prison, located at the entrance to Havana harbour. His interrogation by Lieutenant Victor verges on the absurd. Unrepentant, Reinaldo's arrogance always surfaces in his encounters with men. He operates as an iconoclast who looks for the sexual insecurity behind the mask. As Victor asks him how he is able to publish his books in France in defiance of the Cuban government, Reinaldo fantasies about the Lieutenant's penis. His fantasies are realized in a malevolent fashion when Victor circles, then forces Reinaldo to suck an automatic pistol. Sex, machismo, and death -- the Latino dialectic in a totalitarian regime.

When speaking of his final torture and interrogation -- by AIDS -- RA said, "I have always considered it despicable to grovel for your life as if life were a favor."
"Re-educated", RA is released from El Moro, chastened but unbroken. His fate now lies outside of Cuba. Through his friend Jorge Comacho -- a Cuban painter living in Paris -- his work has been published in Europe to a favorable audience. There's a deep sadness in RA in this period, deeper than the "shared loneliness" of the homosexual condition. His various attempts at escape are perfect examples of human solitude: Reinaldo floating nowhere on his inner tube at night on the capricious ocean... or Reinaldo hiding in a tree as the military hunt the infra-red vegetation. He has become more than a homosexual undesirable -- he is now a traitor.
He teams up with a theatrical group of misfits who have a secret sanctuary in an abandoned convent. They build a gas balloon, hope to fly it to Florida. Meanwhile his old friend Pepe has become blacklisted, and desperate to escape Cuba, steals the balloon with tragic consequences... bizarre? Unbelievable? Some aspects of this adventure are classic RA surrealism. You think it must be fiction... but you know fiction is impossible for a counter-culture writer.
His opportunity comes in 1980 when Castro decides to rid himself of all Cuban malcontents and criminals with the Mariel boat exodus. RA's memoir goes into this in some detail -- the precipitating events at the Peruvian Embassy when thousands of Cubans swarmed into the grounds seeking asylum -- whereas Schnabel's film just concentrates on Reinaldo's escape plan. He changes his name, dresses like a woman, fudges his passport... and in one of the more darkly humorous scenes in the film, is forced to walk "like a homosexual" in front of an immigration official to prove his worthiness as a pervert (no wonder he was later at odds with American intellectuals who admired Castro: "...this festive and fascist Left."). You have to admire Javier Barden's grasp of the physicality of his role -- his Reinaldo is simian, long armed with inverted knees, loosely hinged like a creature who lives in a tree.
beauty is the enemy
Is Reinaldo Arenas another writer whose own story is more interesting than any he wrote? While this is often the case, it's hard not to be impressed by the pure naturalism of his voice. Old Rosa, a novella written when he was just 24, is like a dream monologue rendered as an allegorical painting. A much later work The Palace of the White Skunks reveals the same interiorized narrative and obsessive imagery to the point of mythic redundancy. The autobiography is disguised as poetry in a montage of news clippings, rotting fruit and sub-textual isolations about the tropical fly. Yet beyond the repetition of image, landscape and character in his novels, the clairvoyance of the expression is irrefutable. His stunning literacy is more than just "the sensitivity to be a poet" (as his elementary school teacher says in the film), so you have to wonder about the excellence of his basic education. Certainly his education as "the artist as a young man" under the tutelage of the (then) current Godfather of Cuban literature Lezama Lima is shown. Lima starts off by giving him a novel by Infante (Three Trapped Tigers), then 5 seminal novels by 5 European authors. Talking about the Castro government, Lima says it views artists as a threat, that "beauty is the enemy".
Yet beyond the Lima literary circle and a job at the National Library, his real education comes from the politics of sensuality.
It would be a mistake to think of Schnabel's film as a mere documentary of Arenas' life. An interesting comparison is the recent For Love Or Country (dir. Joseph Sargent, writ. Timothy J. Sexton), about the Cuban jazz horn player Arturo Sandoval who defected to the States while on tour with Dizzy Gillespie in Europe. While the Sandoval story is an interesting one, with great characters and music, the filmic approach is linear, a blunt procession of scenes like a TV feature. Unlike Schnabel's Before Night Falls, there's no attempt to extrapolate the protagonist's art by using sympathetic cinematics and editing. Schnabel's film is more than propaganda; it mythologizes the subject by assuming the subject's point-of-view. Of course, Schnabel did have Reinaldo Arenas' riveting memoir to work from... and his autobiographical fiction.
the erotic games... proceeded undisturbed
Film-maker Schnabel has said somewhere that there's no separation between life and art in the work of Reinaldo Arenas. This of course is the delineating feature of the counter-culture writer in the twentieth century. Historically, it's the heir of romanticism. The Freudian analyst would look immediately at Arenas' relations with women, especially his mother. In Before Night Falls he exalts his mother as an abandoned Madonna, a beauty who embraces chastity after she is left by his father. He grew up surrounded by women, and often characterized them as "witches", governed by the supernatural. In his relationships with other men, he assumed (apparently) the female role, although there is at least one clip in the film which contradicts this. His hunger for human touch seems infantile rather than (pro)creative, yet who can dispute his creativity?
Essentially an incorrigible, he died as one of the early victims of "the gay cancer". The film really skips the final decade of his life in exile, concentrates on the tragic loneliness of his death... thereby connecting it directly to his persecution in Cuba. The transition from his Mariel escape is sublime: Cut To Reinaldo in the back of a convertible, top down, cruising below the scrappers of New York, snow falling on his face. The moment is beautiful, yet this statement of freedom is also prescient with death.
In his memoir, RA accepts his fate, keeps "scribbling" to very end. He describes how, after his diagnosis, he goes into a public washroom: "Nobody paid any attention to me and the erotic games going on proceeded undisturbed."
Javier Barden's performance as Reinaldo Arenas earned him Best Actor at the Venice Film Festival and an Oscar nomination in Hollywood. While prizes are a measure of something, Barden's acting is well beyond measurement by committee. Barden is so completely within his character, the whole action feels as if the real Reinaldo Arenas was simply a dress rehearsal.
© LR 2/2001