Slain By The Doomplayers

This all started in the spring of '03. I was doing a bootleg music trade with a charmingly effervescent young lady in Seeheim, Germany. Tina is her name, and we were trading boots of the Bangles, of all groups. She said she was going to throw in a bonus cd for me, a copy of a legit release by one of her favourite German groups, named, improbably enuff,
Bohren und der Club of Gore
. It didn't sound that promising.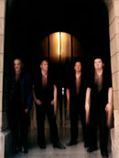 A week of so later Tina's package arrived. By this time I was pretty pumped to hear the Bohren cd, called
Sunset Mission
... I didn't know what to expect, but instead of euro thrashpunkindustrialmetal or whatever, I was surprised to be languidly caressed and seduced by a collection of what seem to be
film noir
soundtracks. Jeez, I'm blown away. Nine songs. None under six minutes. A generous 70+ minutes of a deadly slow, sonorous sax that whispers, cajoles, breathes and floats above syncopated piano lines, otherworldly mellotron riffs, a detuned double bass and narcoleptic drum kit. No vocals. What is this?

I look at the setlist.
Prowler
.
On Demon Wings
.
Midnight Walker
.
Street Tattoo
.
Painless Steel
.
Darkstalker
.
Nightwolf
.
Black City Skyline
.
Dead End Angels
. Wow. Pretty bleak stuff. I play it a couple times, mesmerized by its interior beauty.
Prowler
[
mp3
] opens the set and sets the stage, immediately establishing Bohren's sophisticated soundplay between sax, keyboards, bass and percussion.
On Demon Wings
is another slow sax and mellotron affair, punched by a bass that's been tuned down a few octaves.
Midnight Walker
is particularly eerie, with a creepy melody line that seeps into the dark corners around a semi-militaristic, rolling drumbeat. Again the sax slides in, blowing lazily thru some fatalistic lines.
Street Tattoo
features the Fender Rhodes rummaging thru the lower registers while the bass rolls threateningly under and the sax rolls mournfully over. Still no vocals.
Painless Steel
(my favourite title) is more adventurous, with a wall of mellotron setting the atmospheric stage for the slow, ponderous sax to blow long, white-painted fences of riffs, giving it all an otherworldly feel, like the blues on Mars.
Darkstalker
is also spacey, and leads to
Nightwolf
, a melancholy sax/bass workout that flows seamlessly into
Black City Skyline
, a piercingly beautiful lament which utilizes long sax runs and lots of echo.
Dead End Angels
is a noir classic, utilizing the sound of distant thunder and rainfall in what must be one of the longest ending on record. It's all great. Just great.
I email Tina back. Who are these cats? What else have they done? She's a tad vague, but announces she's found a bootleg recording of one of their rare concerts. Yes, she'll send it along. So I google the group and find they have a
website
. I also find a 2002 interview with Clubber Morten Gass, their producer, engineer and man of vision, and about all their cds - they now have four published:
Gore Motel
(1994),
Midnight Radio
(1995),
Sunset Mission
(2000) and
Black Earth
(2002).
Amazon only has Sunset Mission, so I check into the more rarified depths.

All their cds can be found in North America (with some laughably overwrought reviews) at a great import site called
Forced Exposure
. So I order the three I'm missing, and in a week I'm Gored to the max.
In the meantime, I've done my homework on the group, so lemme briefly bring you up to speed. Bohren is essentially two groups. The first rendition started playing together in 1988. That group consisted of Thorsten Benning on drums, Reiner Henseleit on electric guitar, Morten Gass on guitar, piano, mellotron, and Robin Rodenberg on double bass. They were friends from school, and they shared a common taste for all kinds of extreme music, wacky euro indie stuff with enigmatic names like Grindcore, Hardcore, Death Metal and Doom Metal. I gotta say I've never ever heard of these styles, much less the music they represent.
The Morton Gass interview is cool, tho... it was done by Gabriel Lilliehook for a German website in 2002. In it Gass explains how they started:
Around 1992 we were kind of bored just to sound like all the other bands, and we started a new band under the name Bohren. It was our aim to play doom ridden jazz music.
"Bohren", by the way, is German for "Drilling". Just thought you'd like to know.
With this musically-intriguing goal in mind, the Bohren Boys got to work, and released a 7" ep in 1993,

followed by the longplayers
Gore Motel
in 1994, and the double set
Midnight Radio
in 1995.
So it was with some anticipation that I dropped Gore Motel into the NAD player. But instead of the sax-driven sound I had loved on Sunset Mission, this guitar-based quartet had approached the Doom ideal from a more independent stance. For that, read: "non-commercial". Midnight Radio, while certainly not as discordant as Gore Motel, suffers from a wicked dose of boredom, it's minimalism reduced to a lethargic interplay of guitar and bass. Doom-ridden as these efforts attempt to be, they suffer fatally from a combination of bad studio work and a gestalt that's more Gothic than post-modern. The guitar playing, which was shared by Reiner Henseleit and Morten Gass, is either harsh and discordant, or noodling and uninspired, and the overall effect is one of sorta getting there, rather than snapping the genre. I mean, you can catch glimpses of the Doom, but it's not quite convincing. No feeling of impending dark judgement. If there's anything really wrong with them, it's that they're too intellectual, not
metaphoric
enuff
,
and ultimately burdened with that deadly disease – that deadly self-consciousness which removes magic and replaces it with mathematics. Too serious to be post-modern, their cuts mostly reveal a group attempting to focus its musical vision, yet revealing their weakest musical link – gloomy guitars that can't deliver the appropriate chops.
The release of Midnight Radio also saw them expand their name to Bohren und der Club of Gore... a helluva mouthful with a rather prosaic source... as Gass explains:
Just some drunken metalheads coming up with a name that will follow us for the rest of our lives. But somehow we still like the name. By the way, the "GORE" in our name was a link to the Dutch instrumental band GORE. The band which inspired us to use no vocals.
These two cds do, however, reveal the roots of the genius to come, and those anchors to the yawning blackness are narcoleptic drummer Thorsten Benning and bassist Robin Rodenberg, who reaches deepest into the darkness by tuning his bass a few octaves lower than normal, giving these dirges a bottom end that surpasses the acoustic and skirts the subwoofer end of the audio spectrum.
Bohren's musical miasma was solved in 1996 when Reiner left the group and Gass gave up the guitar. As he recalls:
In the early days I used a guitar, but switched later to a Fender Rhodes Piano, which replaced the guitar elements in our music totally. In 1997 Christoph Clöser joined the band, because we needed a saxophone to complete our musical vision.

Doom, Not Gloom
Bringing in Clöser was, as they say, as turning point. His sensitive playing allowed them to hit Doom paydirt with Sunset Mission, and helped their sound progress in the terminally bleak
Black Earth
. Released in 2002, Black Earth is a classic of melancholic doomjazz, a creepy crawly trip through the dark loam of a freshly-dug grave. The cd sleeve is a fold-out, printed gloss black on flat black. I tried to scan the cover – impossible. Again, we have the zany song titles:
Midnight Black Earth
.
Crimson Ways
.
Maximum Black
.
Vigilante Crusade
.
Destroying Angels
.
Grave Wisdom
.
Constant Fear
.
Skeletal Remains
.
The Art Of Coffins
. Could be the titles of JG Ballard short stories.

Black Earth is a solid progression from Sunset Mission. The mix is crisp. The production exact. The instruments seamlessly blend and flow apart to create an amazingly three-dimensional sound, aided and abetted by judicious use of echo, the sonorous mellotron, the bell-like tones of the Rhodes, the deep, impossible double bass, and truly ponderous tempo. Here's Gass on making Black Earth:
It took us one year to record the album. Such a long time because we did everything by ourselves. Production, engineering and all the studio equipment was all in our hands. But on the technical side, it was the playing that took the most out of us. It was very hard to play precisely in such a slow and quiet way. Most of the time was spent getting the right sound out of the double bass. Black Earth is a doom record (in most kinds of ways). We just deal with themes like "murder", "horror", "funeral" and " the end of the world". We are very happy with the whole album (music, sound, titles, cover), because we had all the time in the world to come up with such a record. It is 100% the music that we had in mind.
Still a tad unsure about the Doom genre? Gass tries to explain his position:
We often use such funny words us "Horror Jazz" or "Piano Doom". But to be honest, I don't care. To us it is just important that our music has this kind of doom feeling. It doesn't matter how we create such an atmosphere (OK, as long as we don't sound like a cheesy goth band with a lot of synthesizers!).
He's not a big help. But labels really don't matter much here. If nothing else, this may be the most visual music you ever listen to. Sunset Mission is the greatest collection of
film noir
movie soundtracks ever recorded, and all you have to do is shut your eyes with this music playing and I guarantee you'll be swept away by mind movies almost immediately. Personally, I see slow-mo outer space tumbles, or wee hours downtown seedy LA on a wet night, streetlights mirrored in puddles, trench coats – that whole private dick cliche. Or moonlit panoramas of natural beauty... or creepy things in the closet. Doesn't matter – the fact the music generates images is what's important. You can see for yourself how well this music works. On their website, Bohren have posted a video to go with
Midnight Black Earth
... see and hear it
here
.
Yet there will be others who hear this as gloomy, depressing, downer stuff. That may be Gass's ultimate aim, but rather than inciting riots of wrist-slitting, one also hears this quartet slipping thru the paces of traditional jazz, albeit slowed to a pace that makes early Ray Charles sound like a speed freak.
Constant Fear
, for example, on Black Earth, features a mellow sax workout that could easily have come from the Cool School of the 1960s.
And then there's the Bohren bootleg. Gass comments about the studio trip versus playing live:
The studio side is more important to us. It's like creating your own personal record that you would like to hear over and over again. The live stuff is more kind of a bonus thing. We do it

for the fans and to keep our record label pleased. Just a couple of concerts a year. 2002 we made 14 concerts which is pretty much for us.
And one of those concerts is the cd Tina sent me. It's the group, live in Frankfurt, on October 11, 2002. The setlist is a combination of tracks from Sunset Mission and Black Earth, with an emphasis on the latter. It's a good recording, clear and subtle, and if nothing else it shows the power of studio mixing over live ambience, which is by necessity substantially coarser. The live outing did allow the quartet to change the tempos and arrangements on some of the numbers, and one ultimately wonders how many of the audience had nodded off during the extended performance. The cover shot of the boot does reveal something about Bohren's stage presence... apparently they all wear black, are on a black stage, and only the player's hands are picked up by the spotlights. Not exactly the way Elton John would approach it, but it sure cuts down on the cost of props.
Die Hard
What's my last nail in the coffin? I'd strongly recommend both Sunset Mission and Black Earth. Gore Motel and Midnight Radio are acquired tastes, at best. But you may have to wait a bit before your next creep down Destiny Lane. As Gass said in 2002:
We just released Black Earth so there are no plans for a new record right now. But there will be no big changes in our music, that is for sure. We have no other side projects or stuff like that. We are working, and this will take the most of our time, so there will be no new Bohren album for the next 2-3 years, I guess. It is possible to order Bohren stuff at our website. Die hard!
And yes, you can get all this stuff at their website. Along with a few surprises. During my cruise of Bohren's website – it's called "Bohren's Legions" – I flipped over to the Merchandise section and noted the cds and Black Earth T-shirts. There were no prices, no ordering info... just an email link... so I clicked it and sent a simple message asking what to do to order. The next day an email came back, explaining all my options. Nothing odd about that, except the message was from virtuoso sax player Christoph Clöser. As LR says:
Now, that's direct marketing
.
Excited now, I email back asking Christoph about his background. Sure enuff, two days later I get this response:
My background is not spectacular. I studied music here in Cologne and since that time I try to earn my living by playing, composing and teaching. Before BUDCOG, which is the centre of my work now, I had many years a trio, which played New Music all over Europe, what means contemporary music (Cage, Stockhausen, T.Johnson etc). At the same time I played saxophone, composed and wrote lyrics for a pop band, together with a friend. Our mixture of sax, double-bass, drum machine and vocals was brilliant, weird and not successful. I played in a circus orchestra, free-jazz with Gunter Hampel and lots of other bands and projekts in different styles. In the moment I work together with some electronic musicians here in Cologne as keyboarder and pianist, but the main work since 1997 is Bohren and it will be the main work in future. I can`t send you a photo of us in the moment, because I have none. I´ll send you one later.
I bet the circus as his main influence.
I'm gonna fade to black here with a simple judgement of doom myself: treat yourself to at least one Bohren cd and immerse yourself in the cool pulse of sophisticated, delicate, finely balanced downer music. Just because it celebrates the Dark End of All shouldn't be a deterrence.