Artist: Lamya


CD: Learning From Falling

All tracks co-produced by Lamya
All lyrics and arrangements by Lamya

Producer: Peter Edge
Executive Producers: Lamya & Jason Herbert

Released by: J Records
Release date: July 30, 2002

Running time: 54 minutes


---

Jeez... Another Nubian Goddess?

By Rick McGrath


First we had Sade, that blasé mistress of the jazz funk sex groove, and now... along comes Lamya, a strikingly exotic beauty with a five-octave vocal range, clever lyrics, some great, hook-laden music, and if that ain't enough, well how 'bout we throw in some retro-psychedelic sitars?

No kidding. There's a new blip on the goddesscope and her name is Lamya, which my sources say means "dark lips" in arabic. Then again, other sources say Lamya was inspired in part by the Keats poem, "Lamia". Doncha love truth in advertising? She's 28, was born in Mombasa, Kenya, of Omanese parents, and grew up in the UK before going to university in Egypt. It was there she saw a documentary of Madonna's rise to stardom, and then she decided on emulation by also running away to find fame & fortune in New York. If you want to know more, there's a few sites about her on the web, including the official site, but after all, there's not much to report, save her semi-career to date as a backup singer and tour vocalist for cats like David Bowie and Duran Duran... not exactly the cutting edge of anything.

All of which makes Learning From Falling one of those glorious debut albums that appears to have dropped in from another dimension. And one that takes you back with it. Smiling.

First Person Singular

One of the first things you'll notice after playing LFF a few times is Lamya's wide range of lyrical interests. Don't forget, though, with 28 rings around the sun,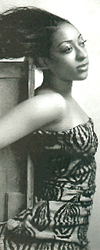 Lamya does have the great advantage of at least having some life experiences - certainly more than her mouseketeer rivals - and she appears to be clever enough to express her ideas with intellectual, poetic lyrics and hook-laden melodies boosted with complex arrangements. Her re-examination of the lessons of experience forms the basis for this cd, and, in the end, it is the strength of most of her songs that her intensely personal subjectivity doesn't fixate itself entirely on moaning or mooning about Love. Her songs come from her books of poetry, she says, and yes, you can hear the usual classical wordplays of alliteration, parallel construction and repetition wafting through her vaguely metaphoric story songs. But there's more: a sort of jazzy vocal phrasing that magically adds meaning in the way only music can. As for the general lyrical themes, well, one could say they're exotic. And singular. Not much for impressionism, Lamya lays a little corporate sexuality on the line right from the first song, and follows through with a half-dozen variatioins on the artistic editorial. Does this sound bitchy? Well, it's really the only downside one can muster after Falling With Lamya a few times. It's a first-person thing she's got going... which is going to draw attention and comparison with other genre-busting me-me-me warblers, like those mind-warping first albums by Kate Bush and Alanis Morissette. You can hear some of the later Sade. And a lot of Bob Dylan.

Some Simply Great Songs

If you were going to pull some cuts off this cd for your own greatest hits travelling cd, you'd be surprised at how many great contenders stride out from their corners.

Black Mona Lisa is the heavyweight, and its genesis is no doubt a clue as to the improbability of sussing accurate meaning out of these nostalgic songs. According to Lamya, when she was six she visited the Louvre Museum with her mother. Unimpressed with the Famous Painting (she thought it was a man in a wig), she had a youthful epiphany: "I thought, 'Well, if she's beautiful, then so am I." Today she says, "I'm a big advocate of beauty being in the eye of the beholder." That idea is revisited in Black Mona Lisa, a song in which Lamya thanks her mother for her maternal sacrifices in a racist world, and proclaims independence for herself:
But oh, I am not afraid
to be a lone bohemian
I can paint a portrait of myself
The song is also a masterpiece of musical technology. Produced entirely with computer-generated effects, samples, the whole digi universe, the song hangs deftly on a highly syncopated percussion track -- a loose, floppy sound that might be time-altered to give it a handslapped feel. Did I say it was catchy? Programmer Fabian Waltman made Producer Nellee Hooper a slithery choice of musical colours to work with, and the final result is an otherworldly collection of fwaps and echo-laden tinkles -- in other words, the perfect backdrop for Lamya's far-ranging, emotional vocals. There is also a "bonus" single version mix of Black Mona Lisa included on the cd, and while the differences are appreciable, they are only variations on the hook-laden beauty of this masterwork.

Another survivor off this cd is Empire, an incredibly outlandish song which blends the aggression of imperialism with Lamya's personal list of men suitable enough to "match my mountains... match my plains". It starts with drumbeats right out of Lord of the Rings, and, warning, because it's the first cut on the cd, you will experience a slight shiver if you're hearing Lamya's almost-kiddieporn voice for the first time. It's Kate Bushy small and breathy, but then builds as she drops an octave and gets into the shopping list. Along with the marching drums, the London Session Orchestra supplies a suitably liquid underpinning in a suitably victorian way, and Lamya's voice laughs like a rollercoaster as she reels off her suitable suitor list of professions. It's unusual to hear a singer make such a direct request - it's like a long personals ad. And the goddess-preferred occupations seem a tad suspect, too. Need proof? Check out the video.

The next cut to bootleg onto the Walkman is a homage to Alanis Morissette that's better than anything the jagged little shrill ever wrote. It's called Never Enough, and it's a bigtime rant of Bobby Dylan proportions about an alcoholic whose fixation on the bottle is wrecking their relationship. OK, has wrecked their relationship. The ensuing finger-point is a good one, but we've heard it all before. The music is nice... it does a slow burn build to match Lamya's march of angst.

Judas Kiss should also be considered, as it's a fun, bouncy putdown of a purveyor of "counterfeit love" done in a smart, fancy lyric, and featuring a happily complex arrangement. Never's Such A Long Time is also outstanding but more for the music than the message. Obviously inspired in a post-911 mood, the song repeats the well-worn homily of avoiding remorse through increased communication. It's an exercise in recrimination, but Lamya's soaring vocal gymnastics and the pulsating groove ends up making this song a slow cooker. It's probably impossible to listen to this without some part of your body doing a dance move.

Honourable mention to Perfect Girl, a sparse, psychological study, and Pink Moon, a true space oddity written by the suddenly popular-again Nick Drake.

Learning By Listening

All in all, in impressive debut by an artist who's paid her dues and has obviously learned the craft, as a songwriter, singer and producer/arranger. Her lolitalike, breathy voice can flash from ethereal to earthy, and her multi-tracked background vocals weave complex webs of harmony which float above, then dive within the often-sparse, but sophisticated simplicity of the idiosyncratic groove. The disc offers a generous 54 minutes of music, and yes, she does feature sitars and tablas on two songs... just part of the world music experience you'd expect from the well-travelled consciousness.

So another femme fatale emerges from the R&B landscape. She's great, and here's every hope that the support tour makes it to this town, and that her second cd gives her the opportunity to learn from rising. I want to close with this... it'll no doubt be the line every reviewer uses... but if Lamya did learn from falling, she must have fallen a lot to learn this much. But don't worry. I've already volunteered to check for any damage.
© Rick McGrath 8/02
OJO RATING:



and a half