Being Mick (2002) dir. Kevin MacDonald cine. Eigil Bryld, Matt Clifford, Georgia May Jagger, Mick Jagger, Matt Nasatir, Victoria Pearman audio Kabe Corad, Mick Dolan, Sandy Fellerman edt. Justine Wright, David Glendenning, Joe Cultrera
Music: various tunes from Mick Jagger's CD, Goddess In The Doorway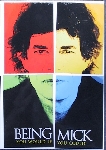 Star. Mick Jagger & family, Matt Clifford, Elton John, Pete Townsend, Ron Wood, Kate Winslet, Lenny Kravitz, Prince Charles, Dr. Kessler, Bono, Rob Thomas, Wyclef Jean, limo chauffeurs, studio techs, fans, groupies and sundry hangers-on
Jagged Films LLC 2002 60 mins
---
you gotta get into the character
You go into the studio to record a tune, somebody steals the lyrics, sells them to a tabloid... next day it's all over London town that you had a blow-out with the wife, told her to go get a gun and shoot you. Song says so, anybody can see it's autobiographical. Man, what do you do? If you're Mick Jagger, it's just another day in the life of a rock 'n' roll icon.
Mick Jagger's life has always been a tabloid, from his early days as the enfant terrible in the Stones [read all about it in Tony Sanchez's Up & Down With The Rolling Stones...][the dealer tells all] to his current life as one of the senior surviving members of Britain's music aristocracy. Mick and the boys have always been under surveillance, the first stars of the new voyeurism. No private life, just public exhibitionism. They toured like a circus. And Mick was like Lord Byron, migrating from country to country with an entourage of animals.
First it was photographs, then movies -- Jean-Luc Godard's One Plus One (1968), the Maysles Bros Gimme Shelter (1970), and then the most verboten of them all, Robert Frank's Cocksucker Blues (1972). These films all rely heavily on the documentary method of cinema verite -- spontaneous scenario, hand-held cine, clandestine audio... clowning, infantilism and the embalming of the egoized moment.
With Jagger, the modus operandi is always the unauthorized action... yet there's usually nothing unauthorized about it at all. The man is always an actor, is always assuming a persona for the occasion. His new DVD shows old Lucifer at work. "You gotta get into the character," he says between takes of "Hideaway"... and he's always getting into character, whether parodying a fragile Kate Winslet or some German immigration official. As a vocalist, he remains in the tradition of the "white negro", although as a performer he's in the British tradition of Noel Coward, or Rex Harrison... a plebeian chameleon adopted by royalty. Mick mimics, Mick mocks... but Mick is always cool. Notoriety is a commodity, not a condition of stupidity. For the righteous, he may have fathered too many children out of wedlock along the way but he certainly never bit the head off a dove.
you would if you could
So now he's 58 and what's changed? Still running a harem? He's running an "extended family" is what and still making music... and now he's really making movies. Enigma [star. Kate Winslet and Dougray Scott], a sort of British Masterpiece Theatre WW II period love piece, for example. What, no Hollywood action stuff? "Bombs and bottoms are not my thing," he says, smiling for his personal digi camera as he tells us about it. Yes, we love the irony, that mixture of cocksure arrogance and mannered deprecation. The source? Mick's own home movie, Being Mick (You Would If You Could).
Yes, it's authorized. Yes, it's propaganda (all film is propaganda)... and yes, the whole family can watch it. Well, Mick says fuck once or twice... and maybe a couple of other guys do but it's moderate stuff for the times. Hey, compare your family to his. Compare your daily routine to his. Be jealous... or shiver at your own narrow escape from the hassles of fame and fortune.
Well, they're all making DVDs these days -- Sting, Ozzy Osbourne, bin Laden et al -- with varying degrees of success. Usually they do it the old way, use a professional crew to do the cine, montage a few one-on-one interviews around a few tunes, maybe a few unguarded moments with the band, a tour of the old villa. You get some of this with MJ's DVD, but what makes it much better than the others is the truly personal nature of the narrative.
MJ is an artist, not just someone who brays in front of a loud band, or haggles over royalties in a black tower in Manhattan or L.A. The small digital camera has now become the weapon of choice for today's synaesthetic artist. The subject is himself, and only a few people could pull this off with any degree of objectivity. He goes to a cricket match, England vs. Australia, is interviewed by the broadcast crew. Why do you want to interview MJ? "Because he's one of the most interesting people in the world." As MJ moves, so moves the camera. Everywhere he's hailed by infatuated fans. The street, hotel lobbies... they even wait outside airport terminals, guitars ready to be autographed. Oh yes -- you would if you could.
and don't bring someone younger than me, please
He spends a lot of time in Lincoln limos, talking on his cell, cool behind his shades, one hand raised like the Queen for the gawking fans. First sequence shows him riding to the MTV awards somewhere in L.A. As he enters the theatre, he works the crowd, among them a smitten Britney Spears. All drained of color, black and white, just like an old newsreel. In fact, this newsreel style is the rationalizing motif for the film. Later, at his chateau in France, Mick puts on his "war voice" for his young daughter, parodies that tight British accent familiar to those who recall the old Pathe roundups. He doesn't go to Ascot, but he does visit the next best thing, Elton John's Thames-side estate, the one featured in Architectural Digest not too long ago.

Sir Elton is staging an AIDS benefit party. MJ takes his daughter Elizabeth. The theme is Venetian. A string ensemble is playing Bitter Sweet Symphony as Mick ambles into the garden, is hustled by a fashion reporter for her column. Kate Winslet is there, dressed in black, satisfactorily giddy and familiar. MJ and Elton discuss Madonna's recent concert... critically. "I thought I was going to be blown away," says Mick. "She hasn't toured in eight years," says Elton. "Too artsy fartsy... but I should know, we've all been there...." Yes, indeed. Two old troopers sizing up the competition. Artsy fartsy indeed. They could've said worse. They could've said her new husband has been thieving his ideas from J.G. Ballard: "The Drowned World Tour" indeed.
No, Madonna doesn't put in an appearance.

But MJ's various daughters do: the engaging Georgia May (8) and Elizabeth (teenager) do the backup "oohhs" when he records "Brand New Set Of Rules" at his home studio in his French chateau. These young girls are extremely normal, charming. We can see their civilizing effect on the old Beast of Burden: he's in Miami, walking along a swimming pool. Various people call out, a young girl runs up, says, "I know, um, you're the lead singer for The Rolling Stones... did you know Britney Spears copied your song Satisfaction?" MJ patiently signs an autograph, says he has a daughter her age, explains that anyone can do his songs.
We just get a glimpse of Jade, his daughter by Bianca. They're in a studio somewhere, and she's reading some lurid gossip about her old man and some young babe. They arrange to meet later at some do. "And don't bring someone younger than me, please," she says as she exits. Possibly the best moment, certainly the best line.
self-portrait

Some will like the studio stuff and the various musicians who are enlisted by MJ. But it doesn't matter if we like the music or not. Where does the new gen rocker Lenny Kravitz hang? In a blood red Miami post-modern hi-tech villa is where. Has Pete Townsend still got it or is he just writing short stories these days? Oddly, Townsend seems uneasy with a camera around... perhaps because he uses the public transport system to travel into town and is becoming reacquainted with anonymity. Bono doesn't care -- he's very comfortable eating a salad and chatting about song writing and Mick's idea for a Vocalists' magazine (The Trouser). Oddly, all these rockers embrace like old-time East-bloc dictators either on meeting or departing.
You want to know how Mick writes his songs? In the mornings... and he doesn't use verse.
But it's MJ's family who makes this self-portrait interesting, as it acts in counterpoint to the high-altitude world of rock 'n' roll business. MJ visits a rare book dealer's store in L.A., buys some lst and/or limited editions... presents for his children and his friends. He takes us inside his London townhouse, shows us his pedigreed art collection. Montage: the family in Venice, Mustique, France. Or the school athletics day in Richmond, where he and his old dad, a former gym teacher, sit in the shade and reminisce. Must be nice. So what if Keith isn't speaking to Elton these days? MJ has something going on outside The Rolling Stones.
As a self-portrait, Being Mick has integrity, even if MJ has all the professional editing help money can buy. We forget the fact that it's advertising, and that his new CD Goddess In The Doorway is being sold here. Being Mick compares favorably to, say, Barbet Schroeder's verite documentary, Idi Amin. How does power behave, publicly and privately? Get the man to tell his own story.
Cut To: Mick and wife Jerry in a limo, heading for Dave Stewart's wedding in the south of France. Jerry asks if Mick is making any money out of this video and if so, is she going to get any of it. Mick is obviously running the camera. Jerry leans towards the lens, says, "There's work and there's life -- let's go to life now."
She disappears into a vortex. Fade to black.
god gave me everything I want
Lots of extras here as well... several live concert tracks from the new CD launch at El Rey Theatre, L.A., November 15, 2001... plus a very nice version of "Don't Call Me Up", videoed in his livingroom, MJ on guitar, Matt Clifford on piano. And more "home movies" and out-takes from his self-portrait documentary... all more charming than most of us would like to admit. Some say the Queen should put him in a zoo.
© LR 6/2002