the centre of risk
|| Cositas Buenas. Paco de Lucia. 2003. Someone tells you there's a great stretch of beach south of Cancun, away from the luxury hotels and the strut of the beautiful people. You drive as far as you can with the directions you've been given, then leave the rental on the sandy trail, head through the jungle. You think you can hear the surf... and maybe so... unless it's the breeze sibling through the glittering leaves of the thin white trees. Large prismatic butterflies are crossing back and forth... like they've just been released by a magician. And what's that...? A guitar? A legitimate flamenco here in the jungle? The chords buzz like insects in quick, snappy bursts. You see a palapa, its thatched roof disguised perfectly within the vegetation. Yes, there's the player, an old guy with a beard... jeans and bare feet, playing his negra. He's recording, using a laptop, so absorbed in the process that he doesn't see you approach. The music is powerful... and you find yourself suddenly bursting into song, the raw cry of the aggrieved speaking in tongues... yes, you know the cante from another incarnation: Que Venga el Alba.
The player finishes, says softly, Camaron? Yes, Paco, you say, I heard you calling, so I have returned....
What is this craziness? Now you're floating on your air mattress in the turquoise water below the vertical Yucatan sun. No Disco Fever suit & Cuban heels. The palmas are clacking somewhere, sure, wafting over the white sand... it's your ghetto blaster beside your beach towel which has kicked-in, playing as if by phantom command. Paco de Lucia, his new one, Cositas Buenos.
Don't go! You are one of the great!
Camaron de la Isla, the singer most famously associated with Paco de Lucia, died in 1992, burned-out at the age of 42. A 100 thousand people attended his funeral in Madrid apparently. In the de Lucia documentary DVD Shadow & Light an overhead shot from the roof of the cathedral shows the coffin in the eye of an enormous crowd which moves like a cyclone. Another shot shows Paco's stricken expression as the coffin is borne down the steps. The women are wailing. One cries out, "Don't go! You are one of the great!"
It's a strange thing to hear the greatest living flamenco guitarist assert that he would rather have been a singer. He has the chops, he has the hands, he has duende... and now, through the miracle of digital recording & recall, he is once again re-united with his old compadre and creative foil, Camaron de la Isla... also considered the greatest flamenco shouter of his time. Que Venga el Alba [track 7] was reassembled from an old discard or unfinished recording which also features the highly regarded Tomatito on guitar -- Paco, it seems, has stayed hip and current by mastering the Pro Tools recording software, and, using his laptop is able to record anywhere he chooses... for instance, his jungle villa south of Cancun, Mexico. Alba is a buleria, and as a subject perfect for a pained, dramatic vocalization. Who or what is Alba? Ferdinand Alvarez de Toledo, the Duke of Alva [1508-82], was Phillip II's most bloodthirsty General who boasted that he had executed 18,000 men in Holland as a Defender of the Catholic faith. Heavy stuff to be sure, and cloaks your transmogrifying ears like a blood fresco on a crumbling wall.

"Cositas Buenos" means "nice little things" which is a comfortable way to describe the 8 eclectic tracks that make up this short but beautiful album... the maestro's best recorded work since Siroco (1987)? Could be, even though some people have complained about the digi expansion-compression used on the mix. Sounds good to me. The dynamics are still intact, the sense of space superb.
The best track? Perhaps 3, Antonia, in which Paco actually sings. Great, he can do it... aided by a marvelously strange interjection from someone who sounds like a mad child. And the closing track [8] Casa Bernardo shows that he can go downtown boogie too. This rumba is progressive flamenco guitar at its best. In fact, the whole CD seems to have a jazz architecture behind it, the sort bop triads you associate with the McLaughlin sound or the gypsy ninths of Django. This is subtle but it's there, even in the traditional numbers, the bulerias & soleas.
Paco is hanging out in Toledo these days as it's convenient to Madrid. But don't expect the flamenco from Algeciras to remain there long as he says he becomes irritable if he's away from the sea too long. [www.pacodelucia.org]
I hate gypsies with guitars
|| Roots. The Gipsy Kings. 2004. Already the aficionados are choking... be serious, amigo, these Montpellier hacks pander sentimentality and nostalgia... Europop for the Viagra crowd... even an authority such as Jason Webster wiped his ass with one of their concert flyers.
Fact is, this is one damn good CD -- raw, rhythmic and real. This truly is a "back to the roots" session, at times as crazy and primitive as a black mass. No electrics, just lots of palmas (clapping), box thumping, acoustic bass (standup), multiple acoustic flamenco guitar... and the hoarse masculine vocals that define the outcast flamenco cante. Who sings? Mostly Nicolas Reyes, whose modified lungs blow hard and heavy... very heavy. A poet of love and murder on the thrilling night-edge of sexual fever. Possession. Duende. Listen to Track 5, Rhythmic, say this isn't heavy, isn't a gut-bucket groove... the thumping rhythm driven by Tonino Baliardo's ripping rasqueo guitar, group box drumming and Greg Cohen's obsessive bass-line... well, maybe the bass is too heavy, should have a decibel clipped from its underbelly. Bet it sounds good on a club system, though. This track is subversive enough to have Nic Reyes booked on suspicion... you name the crime.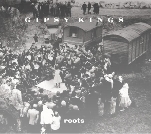 Marketing conspiracies aside, you have to know this is a serious attempt by the Gipsy Kings to atone for their fame and fortune by the retro black n white photo on the cover. Couple of shabby gypsy caravans just off the road on a waste lot somewhere, crowd of people gathered in a circle around a couple dancing on some boards... the flamenca and the flamenco. What is drama? Two boards, two actors and a bottle of wine, says Calderon the 17th C. playwright & Master of the Revels under Philip IV. Yeah -- let the party begin.
Opening track tone setup... nothing fancy, just the familiar flamenco chord descent with a nice southern signature hook... puts us in the clap circle right away. Boleros, fandangos, soleas, rumbas follow. The slow moody lament of Legende with its tragic sense of broken love... or the 2/4 hip-shaker Boogie, more or less a background for a fertility rite are representative of the sad and happy faces of this dramatic album. Tonino Baliardo, following his serious solo CD Essences, plugs in a couple of jazz fusion pieces... but really this is the poet's play to win or lose. All hail Nicolas Reyes!
Mike Zwerin wrote the liner notes... recall his fine pieces in the Village Voice years ago. He starts: "Opening his instrument case on a tour bus between Warsaw and Krakow in Poland, the French Gypsy jazzman Christian Escoude took out his guitar and said: 'I hate Gypsies with guitars.'" [www.gipsyfan.com]
celestial longing & gitano funk
|| La Semana. Ottmar Liebert + Luna Negra. 2004. Ah yes, the smooth groove of flesh on nylon. No steel strings and picks for Ottmar, who disdains the discordant attack in favour of the floating lyrical melody and the rhythm of flight. Despite the fusion & the techno, OL's approach is defined by Romanticism, where the poet's world-view is expressed mostly in terms of Nature. Good example here is Cave In My Heart with its sweet melody and tango feel, tasty electro-squelsh noise & over-driven bass amp punctuations. Imagine the constellation Cygnus materializing as the Swan crossing the night sky, deep with stars & celestial longing. Once again the big landscape of the southwest unfolds in mysterious indigo. Yes, this is a very good album, beautifully composed and recorded in the Santa Fe desert style as defined by OL.

A prisoner in a Moorish fortress has only one glimpse of the sky, a high slot in the heavy walls through which he can see the birds floating in lazy eights. An Alhambra of the mind, a place where flamencos are imprisoned by choice. The sort of thing Jean Cocteau would dream up, say... such is the vibe of track 3, Cocteau [mp3], perhaps the most original and engaging composition. Well, I was so taken by this piece that I actually wrote a long story [Obo Cocteau] based on it.
There are many beauties, however: the catchy signature & jazzy impressionism of Evening... the driving linearity of Underworld with its churning right hand chording... or the closing track [13], Caipira...heavy kick, acoustic mic-ed loud. Short... so we want more. Carousel, the first track, is a good entrance for the CD with its funky rhythm canter and occasional reverts to trad flamenco. Sets the tone... and the reggae counter rhythm keeps it all accessible. Or how about a little flamenco funk? Alhambra Jackson is a sly blend of Motor City 7-9 chord riffing and flamenco lead. "I always wanted to be one of those wah rhythm players," says OL. "Sitting back there in the pocket like Paul Jackson."
As usual, an interesting tension between traditional and nuevo flamenco throughout. No synths, just lots of palmas, box drumming [cajon], and the excellent drop-tone bass of Luna Negra's main anchor, Jon Gagan. OL did the recording and mixing himself, so expect the unexpected: reversed attacks, sonic ellipsis, electro-dance stylings, etc. It's all very subtle, but moves this CD away from the stock production style... and in this regard, look out for OL's limited edition of La Semana which will come with a file of photos, drawings, and writings by the artist himself. [www.lunanegra.com]
who else is out there
Lots of them... although not all are exactly gitano. Peppino d'Agostino, master of the multiple tunings... Robert Michaels, a Canadian who has a fabulous new tune called Savannah included on the latest Guitar Music For Small Rooms [No.3] release. This is a very interesting number which uses a samba percussion battery behind an exciting flamenco guitar. Also on this compilation is Rafael Riqueni, a Spanish flamenco who duets Del Sur with Javier Vargas, an excellent blues player from Madrid in the SRV mode. Riqueni is very fluid but unfortunately has been ill and lost some fingers.... Of course there is Vicente Amigo, who makes a brief (very brief) appearance on Sting's latest CD, and whose own CDs are very difficult to obtain in North America, even though he has toured here. His soundtrack recording for Pedro Almodovar's Hable Con Ella (Talk To Her) is excellent and also features El Pele, the singer Vicente usually works with. This is a very haunting piece, classical, in the manner of Rodrigo's famous Concierto de Aranjuez.
Then there is Rafael Lloyd who works out of Oxford, England. Half Spanish, Rafael is a virtuoso player of considerable experience whose haunted dungeon sound exploits the wine cellar vibe. Check out the full-tilt rumba Mezquita [mp3] from his CD Rafael... or his current dispute re appropriation of story & life with his former student Jason Webster, author of Duende.
While there are several interesting flamenco sites out there, those interested in exploring the old and the new will find www.flamencomania.com useful and informative. The Buenos Aires site raza flamenca [Flamenco Race] is excellent for previewing many, many flamenco releases in the Real Audio format.
©LR 5/04
---