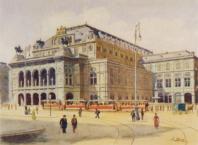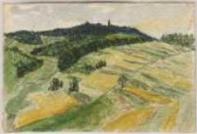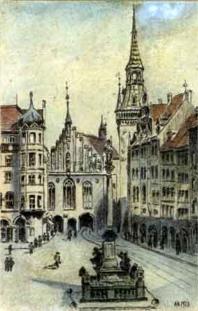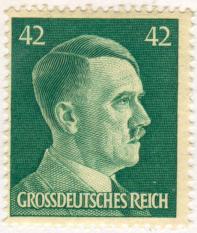 postcards from vienna
After his mother died, Hitler left Linz, came to Vienna in 1908. He applied for admission to the art academy, was rejected twice. While his money lasted, he spent his time visiting the museums and the public buildings on the Ringstrasse, and going to the state opera to witness productions in the post-Mahler era. By 1909 he was broke. In Mein Kampf (My Struggle) he says he worked on a construction site but lost his job after a political argument with a Social Democrat got ugly. This appears to be fiction, as Brigitte Hamann says in her authoritative book Hitler's Vienna (1999) there is no documented evidence of this and no one has ever come forward to share his experience of doing manual labour with the Fuhrer at this time. Like the majority of autobiographies, Mein Kampf fictionalizes either by lying or by wilful omission of detail.
By late 1909 Hitler is so destitute he's sitting in all-night cafes or sleeping on park benches. Things weren't good in the capital, which was full of economic migrants from all parts of the Empire. Unemployment was running at an unhealthy 28%. People were sleeping in the sewers and canals, stables and workhouses, begging in the parks, the streets, the charity outlets. Because of his soft hands and petit bourgeois laziness, Hitler was begging in the streets and doing the soup-kitchen shuffle. His health was poor, his clothes were shabby, and to escape the freezing weather, he ended up in the Meidling (Meidlingerstrasse) homeless shelter (a.k.a. "the Asylum") in late 1909... which is where he met his first art agent, Reinhold Hanisch.
Like many hustlers, Hanisch existed under a number of aliases, moved around. As such, he was involved in petty crime, spent some time in prison in Berlin, which is how he acquired a Berlin accent and subsequently passed himself off as a Berliner. As Hitler was bedazzled by all things German, he quickly befriended Hanisch, who showed him how to hustle. It was Hanisch who suggested he draw postcards, and, after borrowing some money from an aunt to acquire the necessary paper, pencils, brushes and paints, Hitler settled down in the cheap cafes and started to work.
You cannot over-estimate Hitler's cunning as an artist. Was he any good? Crap, you might say, with swift moral ease. But the fact is, good or bad, he knew how to make money. There are hundreds of these drawings and paintings out there, some of which were seized by the US Army in 1945, and are still under curfew somewhere in the US government vaults. The commonality is the lack of human figures within the precise rendering of sentimental landmarks, usually buildings and scenes that appeal to the volkisch aspects of German culture. For someone who later developed a dangerous psychopathology, you would expect these landscapes and buildings to have a van Gogh look, an electrified spacial muddling that betrays not only the amateur but also the madman. Not so. The perspectives are machine-like, free of ego, devoid of poetry. What about the subjects? Most are substitute photographs, suitable for the tourist industry, although some of the war time paintings do have the romance of "ruin value" i.e. "Ruins of a Cloister in Messines" (1914) and at least show some proof that Hitler actually was in the army and that his time at the front was not another Mein Kampf fiction. Yet there is little authenticity in the experience, either in the paintings or the account. If you compare Hitler's descriptions of the front in Mein Kampf to those of Ernst Junger in Storm of Steel (Stahlgewitten, 1920) you would think Hitler spent all his time painting well behind the front and was only accidentally involved in combat. Art for Adolph was strictly a fantasy of the present expressed as a sentimentalism of the past.
Feeling he was being ripped off, Hitler soon dumped Hanisch in favour of several other sellers, including Siegfried Loffner and a Jewish glazier called Samuel Morgenstern, who naturally had a lot of Jewish clients who became, ironically, major buyers of Hitler's art. Hitler himself said he liked Jewish dealers, as they were less judgemental, willing to take risks. Therefore it seems odd that Hitler later embraced the idea that the Viennese Jews were to blame for modernism and its corrupting influence on German culture. You would think that an architectural artist like Hitler would have been at ease with the anti-baroque stance of modernism, and the secular nature of its industrial straight-line economy of form. But no, he was too conservative; painting was furniture or souvenir illustration, never a means to enlightenment. While he would later say he was an artist first, a politician second, he nevertheless spent a lot of his time in the public gallery of the Austrian parliament, listening to anti-semitic politicians who followed Georg von Schonerer (German National Party) and the mayor of Vienna, Karl Lueger (Christian Democrat). Rhetoric comes from the mouth, not the hand.
Years later Hanisch and another artist called Leidenroth from the hostel days tried to blackmail Hitler by stating that he sold forgeries (copied from other drawings or photographs), that he claimed to have an art academy diploma, and inferred that he was in an unnatural relationship with a Jew, Joseph Neumann, with whom Hitler had become friendly. The Vienna Police files have only one entry about Adolf Hitler -- that he was a "pervert". What this refers to remains a mystery. Neumann went to Germany and disappeared. Hanisch's relationship with Hitler was indeed odd, because, after the war when Hitler became famous as the leader of the National Socialists, Hanisch began painting and selling forgeries of "Hitler" watercolors. And he readily sold his recollections of Hitler to whatever magazine or biographer asked. Bizarre? It was certainly provocative and dangerous in the Nazi state and indeed he was arrested in 1936 and died mysteriously a short time later in prison. As Hitler's pictures had such a generic, anonymous look about them, they would be easy to fake, and it has to be recognized that forging them adds to the mystique of the Hitler cult.
The forgery of the forgery. Goering -- a great collector of looted art -- certainly didn't think much of the Fuhrer's art or his writing; he admitted he couldn't read Mein Kampf and that he saw "nothing" in Hitler's paintings. If art is the mirror of dysfunction, then the young Hitler was completely sane. There is no Rorschach confession, no symbolism, no sex, no death... no extra-sensory perception... no personality. If you compare him to one of his contemporaries like Giorgio de Chirico, the Greco-Italian painter who became famous for his metaphysical works (which were adopted by the surrealists), you might laugh, say the comparison is unfair. But De Chirico studied at the Academy of Fine Arts in Munich from 1906 to 1909 and came under some of the same influences as Adolph Hitler, albeit more formally. De Chirico was influenced by the great German symbolist painters Kasper David Friedrich (The Wanderer Above the Sea of Fog) and Arnold Bocklin (The Isle of the Dead), read Nietzsche and Schopenhauer. Hitler was fond of quoting these philosophers, although some have questioned whether or not he did actually read them (rather, he extemporized erroneously from newspaper summaries). As for Friedrich and Bocklin, they were everywhere to be seen. But of course Hitler had different preferences, such as the "Blut und Boden" (blood and soil) ethnic ideology... and he was poor. He was poor and his mother was dead. His idea of salvation was retrenchment, embrace all things German, including the old pagan religion. Paganism didn't show in his painting, but it was there later in his operatic politics and ruin-value architecture.
So as far as Hitler's "commercial" drawings and painting go, it appears to be a case of you can make a tombstone and sell it as art, but you can also do a painting of the same tombstone and never sell it as art.
Yet he did alright, got out of the homeless shelters, moved to Munich in 1913, continued painting, even after he joined the German Army in 1914. Later, when he became Reich Chancellor, he took a royalty payment from all stamps sold bearing his likeness, which, according to Albert Speer, was a lucrative source of extra income. What artists did he have in his personal collection? Arnold Bocklin for one, whose Isle of the Dead was so popular by the late 1800s that nearly every German household had a print of at least one version. Hitler also admired the ambiguous whimsy of Carl Spitzweg (1808-1885) whose corny portraits fitted well with the volk sensibility. In a similar folk vein were the "happy drunk" paintings of Eduard Grutzner, which Hitler blindly adored (perhaps he recognized his brutal, alcoholic father). "This Grutzner will someday be worth as much as a Rembrandt," he told his court photographer Hoffman. Or there was Franz von Stuck, a graduate of the Munich Academy, whose raunchy mythological paintings extended Bocklin's classical symbolism, and owning a few von Stucks suggests that Hitler indeed had an erotic life, albeit a very camouflaged one.
Speer: "There was something fantastic about the absolute authority Hitler could assert over his closest associates of many years, even in matters of taste. Goebbels had simply groveled before Hitler. We were all in the same boat. I too, though altogether at home in modern art, tacitly accepted Hitler's pronouncement." (Inside the Third Reich, p.27)