---
it's time for sex with strangers
Nice night for a Rave, apparently. In the gravel pit just down the road, couple of hundred yards. On the Reservation, open to the water and the stars. Used to be a make-out spot.
You're on the veranda, lying on the davenport. All you can hear is the thud of the bass, most of it the usual 150 bpm synth shit. Industrial and greedy speedy, like bad sex. You wanna sleep? Forget it. Inside, outside, is all nightmares anyway.
So you take a stroll on the beach, check out the constellations... Orion the Hunter... the Big Dipper... and the others, the usual collection of the significantly insignificant. Unless you're stoned, of course.
But no designer drugs for you, baby. You're past all that. Bottle of unmarked red you found in a case in the woodshed after the funeral. Homemade pinot noir, tastes like.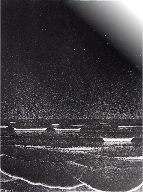 So many memories on this beach, a generation ago, before most of the kids in the gravel pit were born. Your naked girlfriend laughing softly in the water, night just like this, big August moon, treading the vibrating streaks of moonlight, urging you to enter. She's now your wife, and for some reason has no problem sleeping through the thudding.
Like your mother -- this is where you put her ashes in the surf, isn't it?
What's this? Beat's changed, slowed down, a jungle shuffle... almost like an organ grinder's hustle, very retro. You can even make out the lyric:
...completely empty/ you have nothing left inside/ bored, you thought you try a little danger/ and now you have betrayed yourself/ it's time for sex with strangers....
"It's time for sex with strangers." This refrain gets your attention, alright. And the husky cabaret vocal, reminiscent of a Kurt Weil prance -- seems familiar. Yes... yes, it's Marianne Faithfull, rock n roll doyenne of the damned... pussyfatale par excellance. Her and Mick... her and Spanish Tony, drug dealer to The Stones, her and, and.... Man, she's as old as you are... and still bbaaad.
So she's doing the techno-dance thing? The cut, copy and paste routine? Or she been hijacked by some punk with a mouse and a midi....
Brave New World: the salinas sessions
So where can you find Marianne's sinister (yet bitterly ironic) little overture?
Beachlife, an anthology of techno-dance numbers mixed by Jon Sa Trincha, resident dance guru for Europe's beautiful people and international transients. Salinas Beach, Ibiza... a Spanish island in the Med. "Shunning the chill-out-by-numbers mixes from the obvious big-name artists....." says the blurb on this two disc set. No doubt.
Sex With Strangers. Disc 1, Track 8. Marianne Faithfull. A dub mix by Sly and Robbie. This is one subversive little dance number. Is this legal? It's different, not the usual robo-techno stuff associated with the DJ dance scene. There's a late-night street hunger in the sound. The lyric is immediately political, as it states the unstated reason for large public dances. The socialization of strangers and stereotypes, the geography of dream and pre-language history. The vocal is interior, a instruction from the Id.
Some help from "Beck", a nineties eclecto musician out of the U.S.A. Tune not to be confused with the documentary of the same name by Joe & Harry Gantz about cruising couples. More likely influenced by Intimacy, a recent U.K. film about loveless sex in which MF had a part. Will be released on her forthcoming CD, Kissin Time. Funny, moody, straight out of the 30's Berlin cabaret scene.
The origins of the Rave: the jungle, the dancehall, the dystopian novel. Takes some fractal geometry to get here, though... and a generation free of the old taboos. They got the vibe, they got the drugs. What is "X" but the realization of Huxley's soma? Yet who could have imagined the feelies as a Rave in a gravel pit on Vancouver Island, summer, 2002... not you, anyway.
The DJ has replaced the Musician in the new music, just the way the Director replaced the Writer in film years ago. Of course you wonder how it all came to be, this man on stage with a turntable, mixer, computer and a 1000 watts of amplification. In a recent CC feature, Paul Green traces the origins of "dub" music to the Jamaican recordist King Tubby. Of course Tubby was pre-computer and it's the digital cut, copy and paste methodology that marks the new dance music as different from what came before as it places the DJ in a position of pre-eminence in the production.
The La Trincha CDs are decidedly down-tempo, driven by human rhythms rather than the synth occillators than send most of us into the forest. For the most part the touch is human, not techno-industrio. Bass, guitar, drums... occasional piano, and certainly lots of synth sampling and riff looping. None of the other compositions by the various artists are anything like the Marianne Faithfull number either. For the most part, they're New Age, as concerned with trance as they are with dance. The grooves are rooted in the familiar jazz improv change-ups and the linear architecture of the minimalist music academy.
Track 5, Disc 1. "Ehad" by Zohar. This is pure tropical beach atmosphere with its slow Brazilian bossa guitar signature, dreamy piano/synth fills and tremulous tongue vocals by a creature unknown. In the tradition of the old piano classic "Sleepy Lagoon", the sound of gulls and other tidal pool creatures fill out the soundscape. Mixed by the "writer", E. Baron Cohen, who apparently works out of London. This version is a bit short for this sort of paradisal dream excursion, but no doubt longer mixes exist. Dangerously close to the cliched, it nevertheless has that haunted para-normal vibe considered de rigeur for New Age composition.
Track 12, Disc 1. "Tempovision" by Etienne De Crecy. From the Paris house circuit, naturally. Seems to be a satire of catholic ritual. During the bridge a choir choruses behind a radio clip about the Pope. However, the piece is mainly successful due to the ethereal baby-doll vocals of Belita Woods.
Track 7, Disc 2. "Whirling Times" by Eastern Hypnotic. Yes, the titling is hopeless enough to make you sneer... but there's a good kick and clap drive in the rhythm. Also, the opening features some interesting flamenco acoustic... probably inspired by Ottmar Liebert's 1996 flamenco-electro-dance cross-over CD, Euphoria.
Track 8, Disc 2. "Deeper" (in Love) by Speedbump. This has a great jazz groove in good old fourths, with a deluxe vocal by Svante Loden. Actually, there's very little that's techno about this one, except maybe the dynamics of the recording itself.
In all, the Beachlife anthology makes interesting listening because of its easy spaciality. The core material is driven by musicians rather than samplers, although sampling is used, especially in the rhythm tracks... and by the simple fact that synthesizers are used somewhere on just about every track. No hyperactivity, no industrial clash. A slow-hand groove all the way. Dig it.
sampling the dead
They say Ludovic Navarre [St. Germain] isn't a musician, yet the fact that he was signed by Blue Note (France) and is able to pull in some very competent players to record his "compositions" suggests he knows something about the modal structure of jazz. It takes more than "good taste" and dexterity with a mouse and Cubase software to put together an album like his recent Tourist. Yes, he uses samples from the living and the dead... but the expropriations are so creative there is little reason to consider them illegit.
Technology aside, Navarre's studio groups jam on the familiar grooves laid down by the previous generation of fusion groups such as Weather Report, Herbie Mann, Chick Corea, etc etc. There's comfort in the familiar, even if it appears to be just a slick ambience designed for lounges and elevators. In fact, there's nothing remarkable at all about his first CD, Boulevard, despite the fact that it enjoyed considerable success in Europe. Why? Well, you can dance to it, and in the dance parlours of Paris and other Euro cities there is an almost religious hunger for American jazz.
However, Boulevard has been released in North America recently -- due to the success of Tourist -- and is certainly worth listening to, especially for the closing 10 minute funkadelic "soul salsa soul", and to catch the embryo of the Tourist sound... now the St. Germain sound.
When Navarre samples, he doesn't mess around. Consider the stunning hypno groove of Tourist, Track 6, "Sure Thing." Absolutely linear, the main riff is a synth loop in A minor/F, which underpins the highly masculine and ever dangerous John Lee Hooker. Sampled from a track Hooker did with Miles Davis, Navarre blends the old bluesman's scat vocal and guitar signature to create a superb trance-dance number. Too bad old John Lee isn't around anymore to hear it, as "Sure Thing" is yet another excellent collaboration in the tradition of his last recordings with Santana, Van Morrison, et. al.
Track 1, "Rose Rouge", is so far the best known number from Tourist. Here Navarre samples a vocal by Marlena Shaw "Live at Montreux" [conveniently issued by Blue Note]. No chord shifts here. The rhythm is simply a sweet hustle (like a speedy version of Brubeck's Take 5) for Marlena to simply insist, "I want you to get together" over and over... broken by smooth solos from Edouard Labor (sax) and Pascal Ohse (trumpet). Question: is the rhythm a loop... or is it played in real time?
While the refrain "I want you to get together" seems like a simple social statement, the urgency behind it is completely sensual. The St. Germain sound surely involves binary transplants, yet never leaves biology. Dig it.
cannibalization and art
Yep. Magazines for musicians and recordists are full of ads for drum tracks, available on CD for not immodest prices, and invariably promising the ultimate grooves. While a hundred years of recording now becomes open to looting like an auto wrecker's yard, the spare parts industry has also stepped into the market with custom made loops. Riffs, rhythms, natural sounds, are all available in midi software. Some people despair at this development, others embrace it unconditionally. Faced with declining CD sales and hijacked product via the Internet, some of the big labels are now making their copyrighted recordings available for remixing.
A tacky experiment, just like the colorization of the old black and white movies?
The Verve ReMix
The recent release of the Verve Remixed CD is a real litmus test for the aesthetics of sampling. These guys have some nice ghosts in their vaults. Easy access? You bet. Here some of the most famous female singers of the previous two generations receive the techno-dance makeover. Never listen to anything just once, as you just might miss the vibe. Here you might simply say the percussion tracks are too robo, soulless loops for a soulless world. But when you get past the first couple of tracks, all is transcendental bliss.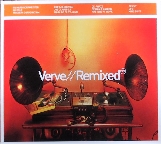 Track 3, "Who Needs Forever" by Astrud Gilberto. The Brazilian siren exercises her cool dream voodoo. Did you think Sade sprung fully formed out of the Etheric? A gentle samba that rocks you like unbroken waves. Recall that her bossa nova sound really shaped this whole soft jazz samba style to begin with. The beautiful simplicity of the refrain is hypnotic. Understated, subtle, one of the best tracks. Remix by the Thievery Corporation, a Washington, D.C. duo. [sorry to report that the T Corp's solo compilation Songs From the Verve Hi-Fi is just a curiousity]
Track 5, "Feelin' Good," Nina Simone. Extended intro with some powdery Fender Rhodes keyboard (possibly a synth sample) lead that's very nice, establishes the slow, intimate spin of the temp. You can hear why Nina has always had a large following in the gay scene... ambiguously gendered vocal, an almost stoned slur, yet purely articulated impressionism. Lyrics suggest drugs, but behind the lyricism lingers a gospel refrain. Remix by Joe Clausell, a New York D.J.
Track 7, "Wait Till You See Him," Ella Fitzgerald. This one's made over by De-Phazz, a German electro-jazz duo now hitting the Euro charts with their CD, Death By Chocolate... which is definitely worth checking out. The tone is set primarily using a "New Age" choral voicing on the synth. Deep, spacey sound. Nice trumpet fills, electro back beat. Flatted fifth ghosting. And Ella... very, very nice. The lover she sings about has the mystic possibilities of a Jesus, though, which again reminds us that most of these ladies were shaped by gospel.
In all, not a bad experiment, if experiment is what it is. All of the remixes are down-tempo, have a soothing feel. Slightly astral, Verve ReMixed sounds best on a larger system, even at low volume. Dig it.
the ultimate cannabis zen loop
Past midnight, the beat goes on. The Ravers are back in the industrial groove, chain saws, screams, howls. Could be real, could be samples, who knows. The neighbours are getting creeped. Can see porch lights snapping on up the road.

You're back at the house, in the laundry room. Find a stack of old lps on a shelf. Buncha crap, not yours, surely... Harry Belafonte, Glen Campbell, Songs of Erin, John McCormack... why did the folks keep this stuff... but what's this? "In C" by Terry Riley... this is yours, what's it doing here?
Terry Riley. Late sixties. First heard him in a garret in Victoria where an old beatnik artist from Frisco lived, had the greatest music collection of anyone you knew. "In C" was the ultimate cannabis zen loop of all time. All you could think of was, having got here, how can I stay? Repeating riffs, in phase, out of phase, polymetric, linear, extra-sensory. He's to blame, he's the guy! These punks think Tangerine Dream or somebody started it all... but no, if it was anyone, it was Riley. Sure, you can't dance to it -- is pure trance -- but a set of drum loops could change all that.
Your eyes wander over the shelves, see the urn with the old man's ashes [you gotta do something about this but when?]. "Thanks, old boy," you murmur, brushing the spider refuse from the Riley album. Sleep? There'll be no sleep tonight. You're looking at your old Harmony Rocket, ƒ-slot sunburst hollowbody... still in its original case.
Armed and dangerous, you step into the moonlight.
© LR 7/02