|§| Ottmar Liebert was born in 1961 in the old Roman city of Cologne, Germany, situated on the Rhine river, famous as the birthplace of the surrealist Max Ernst... and as the locale of the longest running Kolsch party in Europe, the November Carnival.
"It was quite easy growing up in Cologne," says OL. "I could walk anywhere without worrying about being ambushed by any punks when coming home from school or using the transit... the U Bahn or the S Bahn. I liked the museums and galleries and a lot of the new architecture that was going up in the reconstruction. We lived on the other side of the river, in Deutz, so I did a lot of walking... still do.
"I read very early on," he says. "We didn't have a TV. We didn't get one until my grandparents moved up to a color one, and I was 12 years old. And we didn't have a phone until then either."
First guitar?
"Hopf -- German guitar, classical model, spruce top -- under $100. I was 11 at the time. My parents didn't think I would stick with it. Bought an inexpensive EKO Steel String a few years later, but nylon remained my favorite."
Lessons?
"Never went to the conservatory. Entered a special program which brought a conservatory teacher to my junior highschool for one group-lesson per week -- only $20/semester -- what a deal! Teacher liked me and would teach the other students for 30 minutes, then send them off and teach me by myself for the next 30 minutes. That built my confidence and really spurred me on. I stayed in the program for 3 or 4 years and learned a lot."
Patagonia Express, Paul Theroux. "I hadn't read Theroux's book then -- well, was it even published? -- but my idea was the same: he gets on the subway in Boston, then keeps taking trains until he gets to the tip of South America. I wanted to get on the train in Cologne, go east, see how far it would take me. So I took the Paris-Moscow Express from Cologne to Moscow in 1978. The sound of the rails is still in my head from that trip."
Something else too -- a man who got on the train in Warsaw. "I was reading, became aware that he was looking at me. When I responded, he said, 'You are a guitar player' and naturally I wanted to know how he knew this, and he said it was my finger nails. Fair enough. Then he said, 'Have you been in China?" and I said no, but that my grandfather spent some time there. This man looked like a gypsy although he was dressed like a business man and I thought maybe he was Hungarian by the way he spoke English. Come to think of it, he looked like Carlos (Santana).
"He was joined by a beautiful woman wearing a white fox fur, the way they did in the 20s, and I remember saying something stupid, like, 'Will it be snowing in Moscow?' I dozed off and when I woke up, they were gone... and my nails were gone too, like I'd chewed them off! It was crazy, something I'd never done before ever, guess I must've been apprehensive about crossing into Russia -- it was still the Soviet Union then -- although there was no reason to be. Brezhnev was in power and it was the era of 'detente'.
"I wanted to keep going on the Trans-Siberian, get to China... it was just an idea, a fantasy really. I was just 17."
He drove to Paris, slept below the bushes on the Champs d'Elysee. He hitch-hiked through Spain, played his guitar on the beaches. He drank wine, watched the Guardia Civil patrolling the intersections, breaking for shadows & cigarettes.
School? Forget it. One day in May of 1979 Ottmar Liebert flies to New York... and the next 7 years are spent on the East coast, mostly in Boston. He says, "I played at a lot of Rock clubs, like the Rat (Rathskeller), and Spit, and the Channel in Boston... I sounded different in those days -- my band once opened for Ministry, which will give you an idea how different my music then was. In Spring of 1986 I arrived in Santa Fe and decided I wanted to do something completely different."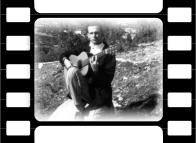 Cologne/Deutz
"You'll find Deutz on the eastern bank of the Rhine. The Romans called it Divitia... nice name, maybe I'll use it for an album one day. The Südstadt is a good part of town for finding live music bars, and theaters. You'll see street performers there, like organ grinders and buskers. The Belgian Quarter has many old buildings, makes it nice for walking & sightseeing. No hustlers, no hassles."
---
OL, April 6th, 1994:
Woke up @ 7:30am as usual, turned around + slept a little more, got up B4 nine. Took a shower + made some green T. Began 2 design a T road case. Decided we shoudn't go out opening 4 Michael Bolton this summer. We have a company 2 run, salaries 2 pay, mouths 2 feed, a studio 2 equip + a live CD 2 record, mix, master + deliver by September 1st. And listening to Bolt-on nightly would probably kill me.
---
documentary gestalt
"I've used snippets of field recordings ever since the album The Hours Between Night + Day. In 1992 I bought a DAT recorder, and everywhere I went I'd record stuff: the little Vespa in Italy coming through the small streets, a train making a turn, rain, water, all sorts of stuff. I tried to pick a few that fit this whole idea of lullabies and relaxing. The song 'Dreaming on the Starlight Train' has the sound of a train approaching, which I find very relaxing." The idea from a rail trip he once took from Cologne to Moscow. "I wanted to create an atmosphere where if you dozed off you might even think you're traveling," he says. "A whisper of a train might suggest that you're on a journey."

New Age Artist of the Year
Solo Para Ti, the 1992 Epic label debut by Ottmar Liebert & Luna Negra, featured Carlos Santana on two tracks, including the Santana classic "Samba Pa Ti." The album not only went to the top of the New Age chart, it made the Billboard Top 100 Pop albums, gained Liebert a second year of acclamation as Billboard's New Age Artist of the Year and was certified gold in December, 1995.
Since 1990, Ottmar Liebert has released 25 albums. Nouveau Flamenco, featuring "Barcelona Nights," sold double-platinum in the USA, Australia and New Zealand and has become the biggest-selling instrumental guitar album of all time.
on the road
"I spent 3 weeks of hitch-hiking around Japan, then a couple of months in Taiwan (studied Tai-Chi in Taipei twice a day for a month), a month in Hongkong, a month in Thailand and Ku Phuket (in those days a hut on the beach was $1.50/night), two months in Nepal, and finally 3 months in India. The whole year cost me something like $4,000."
---
Spain: poem by the invisible author
the cocks crow at dawn
and the flamencos rasqueado at sunset

lemons fall, tumble down
the cobbled calle
Garcia Lorca
blood wedding
black rider on a white horse
distant on the vega

and somewhere off Caliente
a B-52 black on the bottom of the Mediterranean
impressions are like snow
in August
a surprise
in August, a dream returning
in the spring, a painting
---
OL impressed by
"Earth, Wind & Fire (first concert), Santana (first concert, first vinyl LP, met in 1993 (Solo Para Ti album) and again in 1995 (Tibet benefit) and 1996 (tour), Miles Davis (fell in love with his trumpet sound and wanted to play guitar with that kind of breath, opened for Miles in Seattle in 1990), Paco De Lucia (first impression was Mediterranean Sundance which a school friend showed me. My reaction: 'I don't like Al DiMeola's playing but WHO is the other guy?!')"