LOST TRIBAL VIBES OF THE SCRIBES
Thus the writer Paul Buck, last seen in Camden High Street in the early nineties (where we lamented the closure of the Compendium bookshop) recalls the book shops, music stores, galleries and jazz clubs around the Charing Cross Road, an artery of young-blood energies in the sixties. He was a model (alongside Charlotte Rampling) and a student at St Martin's School of Art, right on the street, he was the right face in the right place. Colin Wilson had shown the way, mapping the zone in his 50s autobio novel Adrift in Soho. So Buck recalls places like Studio 51 in Great Newport Street, a club founded by the traditional jazz trumpeter Ken Colyer, at the point around 62-63, when Colyer and his purist trad disciples were facing the invasion of the early British rhythm and blues groups. The shaggy beards, duffle coats and long Wilsonian sweaters were being supplanted by Mod suits and sharp haircuts, as worn by the young Buck.
(I and my alter ego Brother Paul wandered between both camps)
The place which really opened the heads of so many young pretenders was the Better Books shop, celebrated here by Buck and poet Lee Harwood, who both served time behind its counter under the libertarian regime of the late Bob Cobbing. This bearded magus of sound poetry packed the shelves with small press poetry, and those imports from City Lights and Olympia Press that heralded the arrival of the Beats in London. Ginsberg and Ferlinghetti read there, Burroughs would drop by in his fedora. There were screenings of underground film, hatchings of artistic conspiracy – and incessant shoplifting by indigent poets. Buck recalls terrifying Happenings in the basement, orchestrated by the late Jeff Nuttall: "Laura Gilbert hanging upside down from a meat hook, suspended next to a whole side of a cow that had been strung up for a few days, left to fester…". And Harwood can't forget these sensory assaults: "…the art critics didn't appreciate ending up covered in feathers nor did they appreciate an over-enthusiastic Nuttall associate pouring paint on them through cracks in the floor above."
What was more important perhaps, in the long run, was the role the shop played as a focal point and meeting ground for writers and artists, and as a seedbed for similar alternative ventures, like Barry Miles's Indica bookshop/gallery, where poetic insurrection was plotted to a rock and roll soundtrack. They inspired the jazz poetry groups, like the Word Engine, an odd fusion of my Anglo-Beat dada utterings and V Crane's organ funk, gigging with future Cream wordman Pete Brown in the tiny St Martin's Gallery, a venue so small that when people tried to dance to the poetry they knocked the paintings off the walls, to the alarm of the artists. As rising rents and the spread of corporate bookshops invade the Charing Cross Road, such haunts become ghostly memories, torn fragments of memoir. To quote Buck: "Each bookshop, when I'm standing outside it, is like a book case. Each offers memories and obsessions."
---
Brother Paul remembers Studio 51:
Studio 51: a tiny under-lit basement. Its dark orange walls, plastered with album sleeves, posters and pictures of the Colyer band in its hey-day, might feel oppressive, except that it's almost empty tonight, as Vincent and I check out Llew Hird's Australian Jazz Band. It's the classic New Orleans revival front line, Llew Hird smearing away on tailgate trombone, his wife Pam hunched over her trumpet, a clarinet swooping around her dogged delivery of some Bunk Johnson standard, while string bass, drums and that clunky banjo chug away behind them. They cluster in front of one ancient microphone, blasting out this raw but fervent recreation of a Crescent City nightlife they've never known; but it doesn't work the magic of a year or two back, when the floor would have been full of Ackerites in bowler hats jiving with girls in flaring skirts. We're more interested in the interval pianist Keith Scott, who can roll the blues. He plays with Alexis Korner, who's igniting the R&B boom.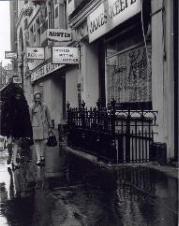 A few weeks later I'm back, this time with Dizzy, who has big eyes, a pony-tail and a boyfriend I don't yet know about, to show her I'm hip with the in-crowd. And they're all crowding in, for a blues jam with Brian Knight's Blues by Six, Charlie Watts stone-faced in his button-down shirt behind the drums, Brian Knight shouting Big Joe Turner's "Honey Hush" , backed by Korner's hard-edged sax players, Dick Heckstall Smith and Art Themen. There's a lot of twisting and shaking and finger-popping going on, some of it very approximate to the beat, and Dizzy is beginning to doubt my cool, despite my new Italian cord jacket. No matter, on the way out I get talking to Heckstall Smith and ask him about the latest face on the R&B scene, the wild alto-saxist/organist Graham Bond. But, with a mind-set still locked into the sectarian pedantry of the traddies, I have to ask him: "Exactly what style does he play in?" The man in the leather hat lugging the heavy horn looks exasperated: "He plays his own fucking style!" Time to own up, open up to the sixties.
---